During the fifty days of Michinoku Coastal Trail hike, we always made bookings of our lodgings a few days in advance to secure our beds for the next seven days or eight.

It was because I wanted to know the destinations for sending out our camping gear boxes to. We always used Yamato delivery service (we call them as "black cat" for their nationally very well-known brand logo.) The black cat allows senders to designate a delivery date within the next seven days from the shipping.

But, except for a couple of nights of the planned camping, there was only day we didn't make plan about where to stay for the night.

That was Day 8, today.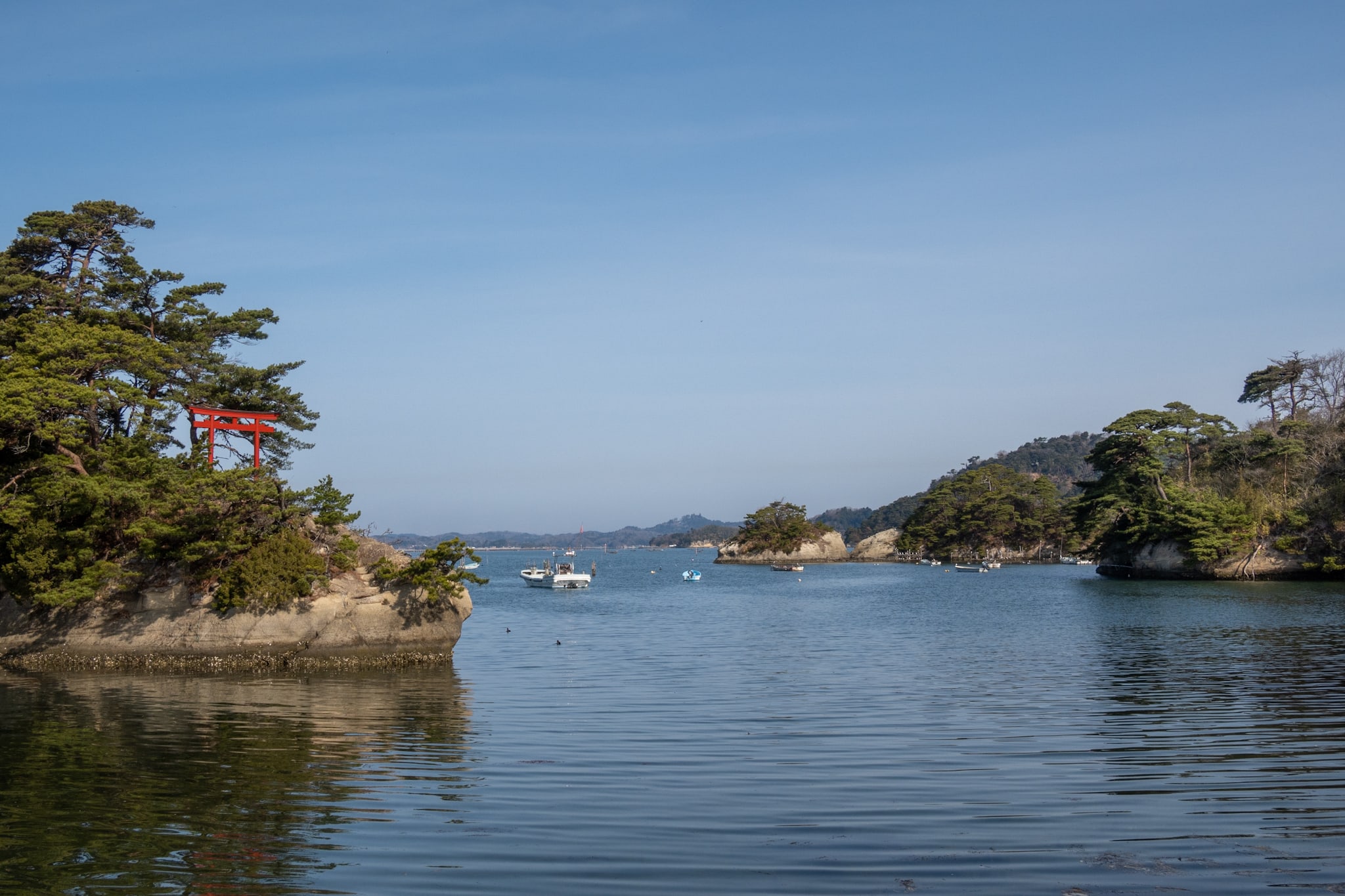 We were heading to downtown Ishinomaki city (石巻市), walking through Higashi-Matsushima city (東松島市) from Miyato island (宮戸島) area today.
Our tentative goal for the day was Ajishima ferry line Ishinomaki-Chuō port (網地島ライン石巻中央発着所) from where our second "hiking on islands" part in Michinoku Coastal Trail starts next day.

To the port, it would be 35km from the minshuku we stayed last night.

I honestly didn't have a confidence whether I could walk that long distance.
The last two times we had to walk on the concrete-paved roads though the wide-open super flat areas all day long, I always ended up to silently scream for terrible pains on my back and legs during the last couple of hours before the finish points of the day.
According to the MCT map book, today's route was going though another huge open flat area, of course all on asphalt/concrete-paved roads.

Though I used every tools I could to find any lodgings within 30km from our starting point, majority of accommodations are near the Ishinomaki-Chuō port, otherwise located far out of the MCT route.
Well, actually, I did find an interesting option. There is a so-called "love hotel" neighborhood just about 30km from Miyato island area. The "love hotels" usually don't need (or probably not taking) advance bookings, and we could just check in one of them when we get to the area depending on my feet condition.
Considering love hotels as an option of lodgings for long distance walk is actually not a bad idea.
Nowadays most of their rooms have installed a good WiFi connection, and of course always a big bathtub and a king-sized or bigger bed guaranteed. You can usually order various food and drink menus from your room. Some places even allow guests free entry during their stay so they can step out for dinner or shopping.
So, we started walking early morning without setting a concrete goal for today.

Walking back and passing by the boat deck where we got off Suzuki-san's fishing boat last evening, we saw another boat with MCT logo flag was there seemingly waiting for passengers. It was not Suzuki-san but a different man on the boat.

Since it was too early morning to help some hikers crossing from Sabusawajima island side to Miyoto side, we guessed he must have been waiting for the southbound hikers coming from Ishinomaki area to hike the three islands today.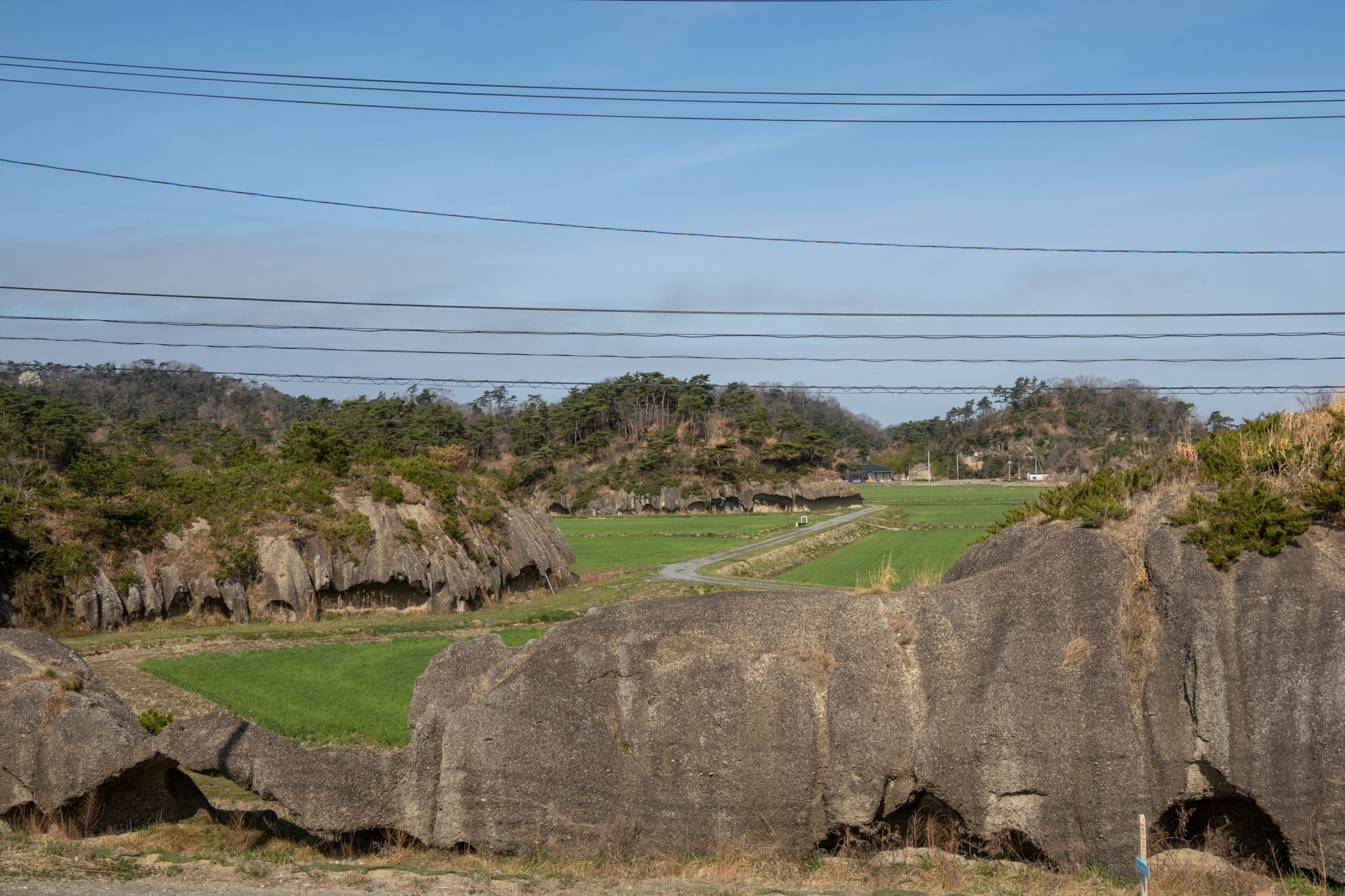 We were walking along a newly-built driveway that still had some parts under big constructions to widen the road and to build high sea walls.
Then, we started seeing small shadows coming towards us from far ahead. The shadows soon became a group of casual hikers, looking a family of parents and three little kids, walking cheerfully.

I assumed the MCT supporter boat at the boat deck might be waiting for them.

As passing by, we greeted each other and I spotted a MCT map in the father's hand. He said they lived in Ishinomaki city and were going to a fun day-hike on the MCT Urato islands route today. They took a train to come to the nearby station and now on the way to the Miyato boat deck. So, my guess was right.

"You guys can walk on the sea walls over there. It's cooler with sea winds and you can enjoy nice view," said the dad, probably read my anxious face for upcoming all day-long flat concrete road walking.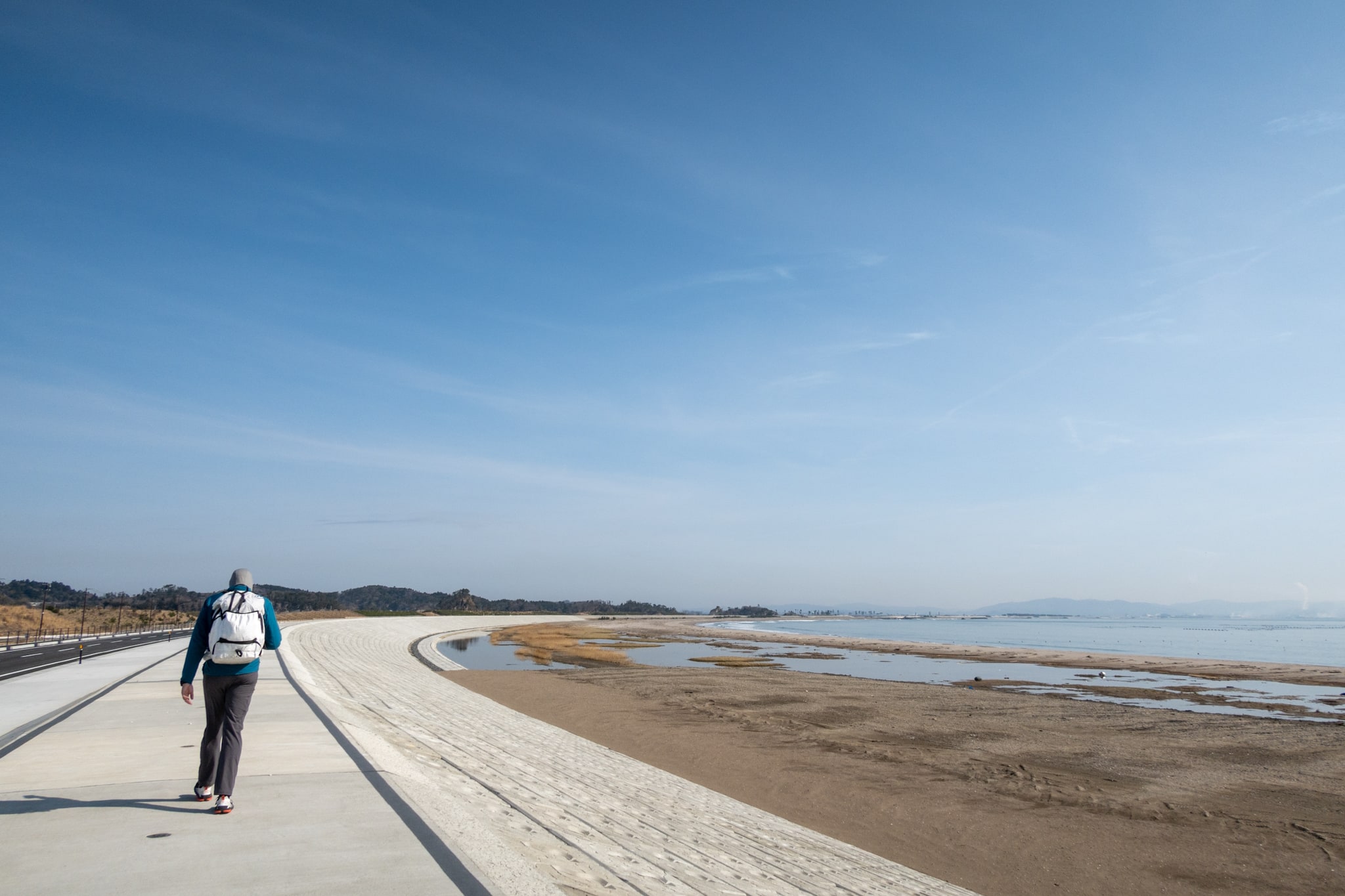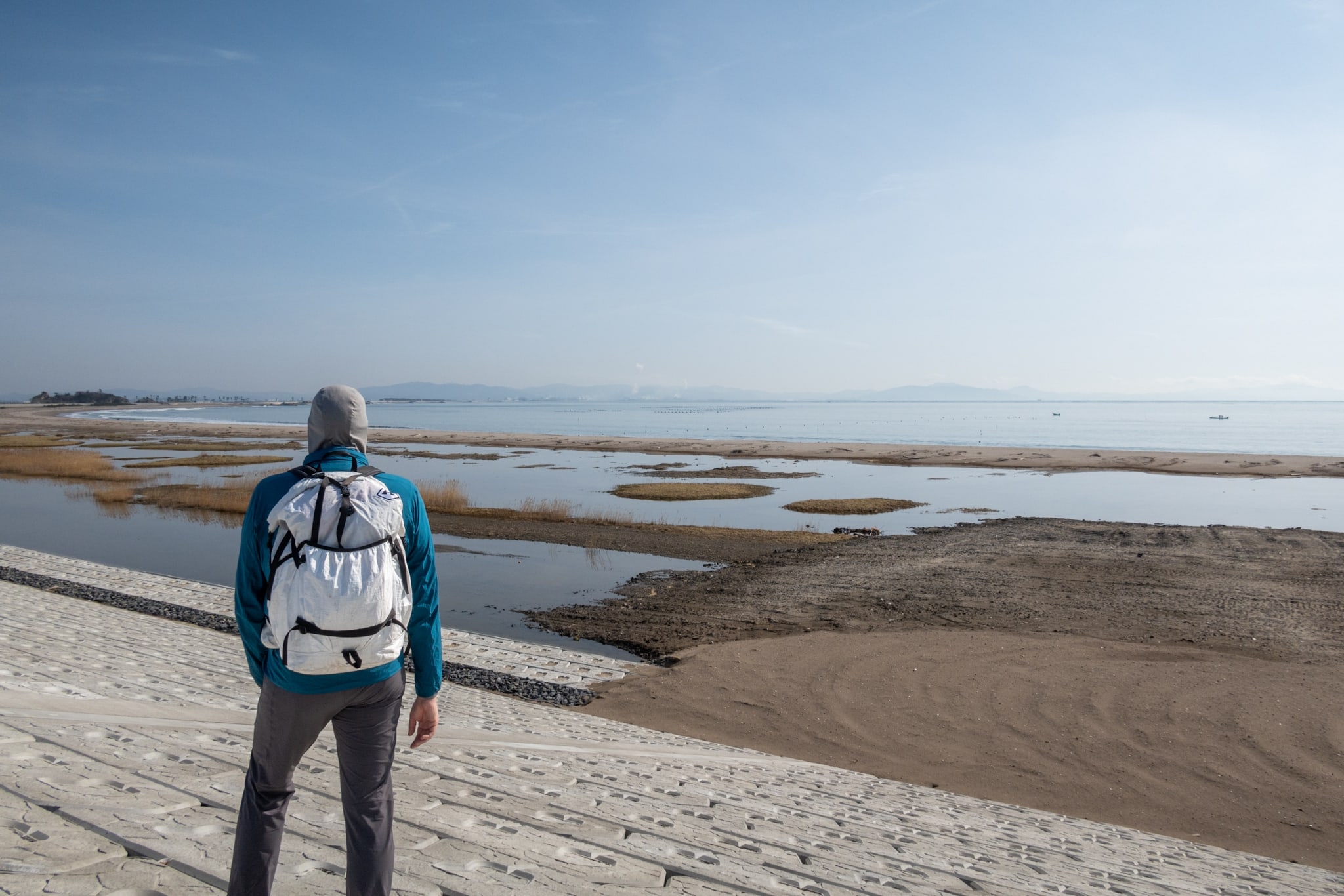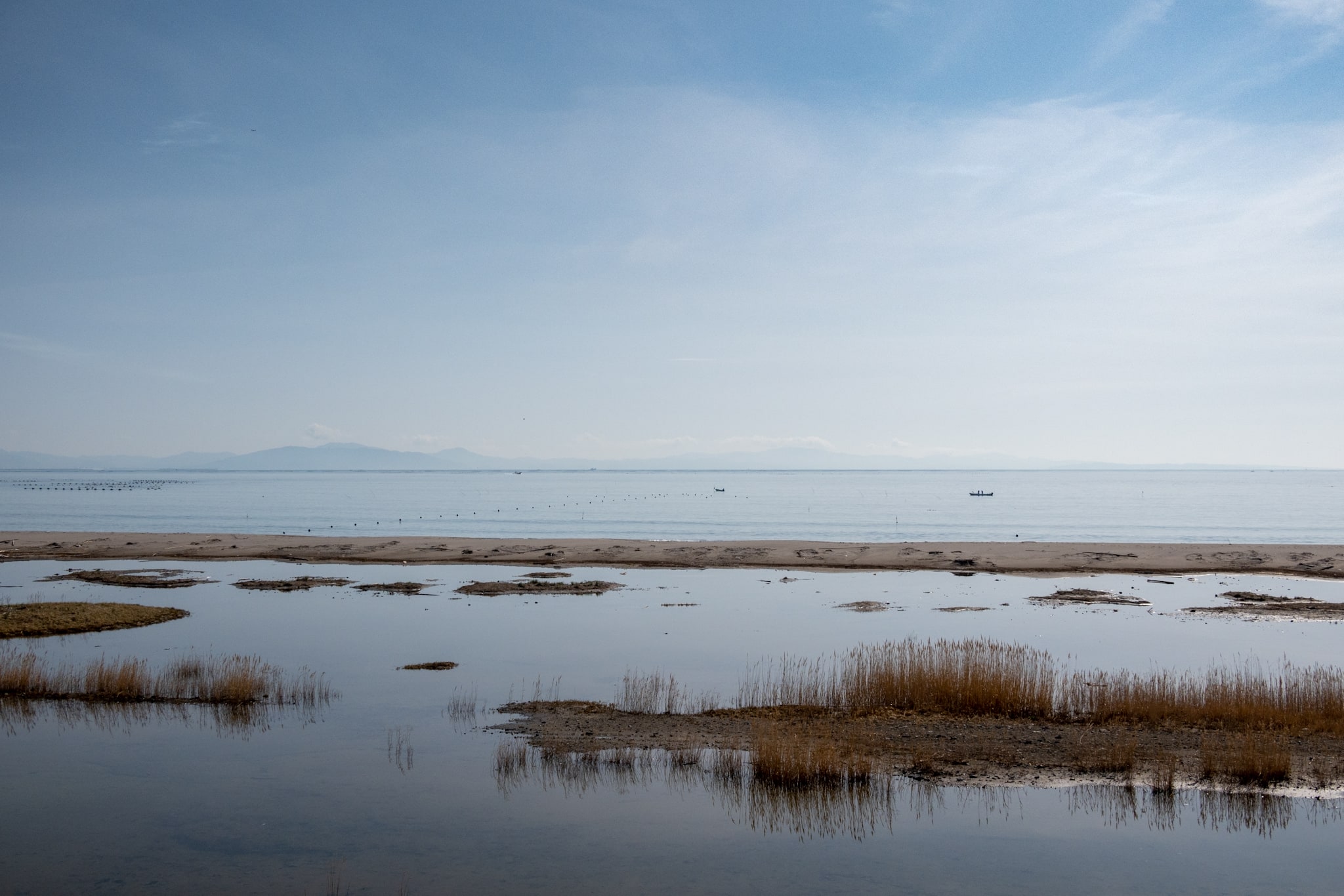 Soon after that, we came to a newly-built high sea walls standing along a big long sand beach.
We followed the farther's suggestions. He was right, we felt nice cool breeze on our faces as soon as we stood on the wall. It was cloudy and a bit chilly this morning, not a bad condition at all for walking in the long flat exposed land all day.

There was a walking path on the sea walls, but apparently few people had walked on it yet.
Strangely, we found a lot of broken seashells and small crabs scattered all over there. I guess these walls were a convenient tool for seagulls to drop and break poor shellfish from high in the air to eat.

We were not aware that we had already crossed the bridge connecting Miyato island and the mainland of Tohoku region because they were so close each other. According to the map, the small bridge was just before we walked up the sea walls.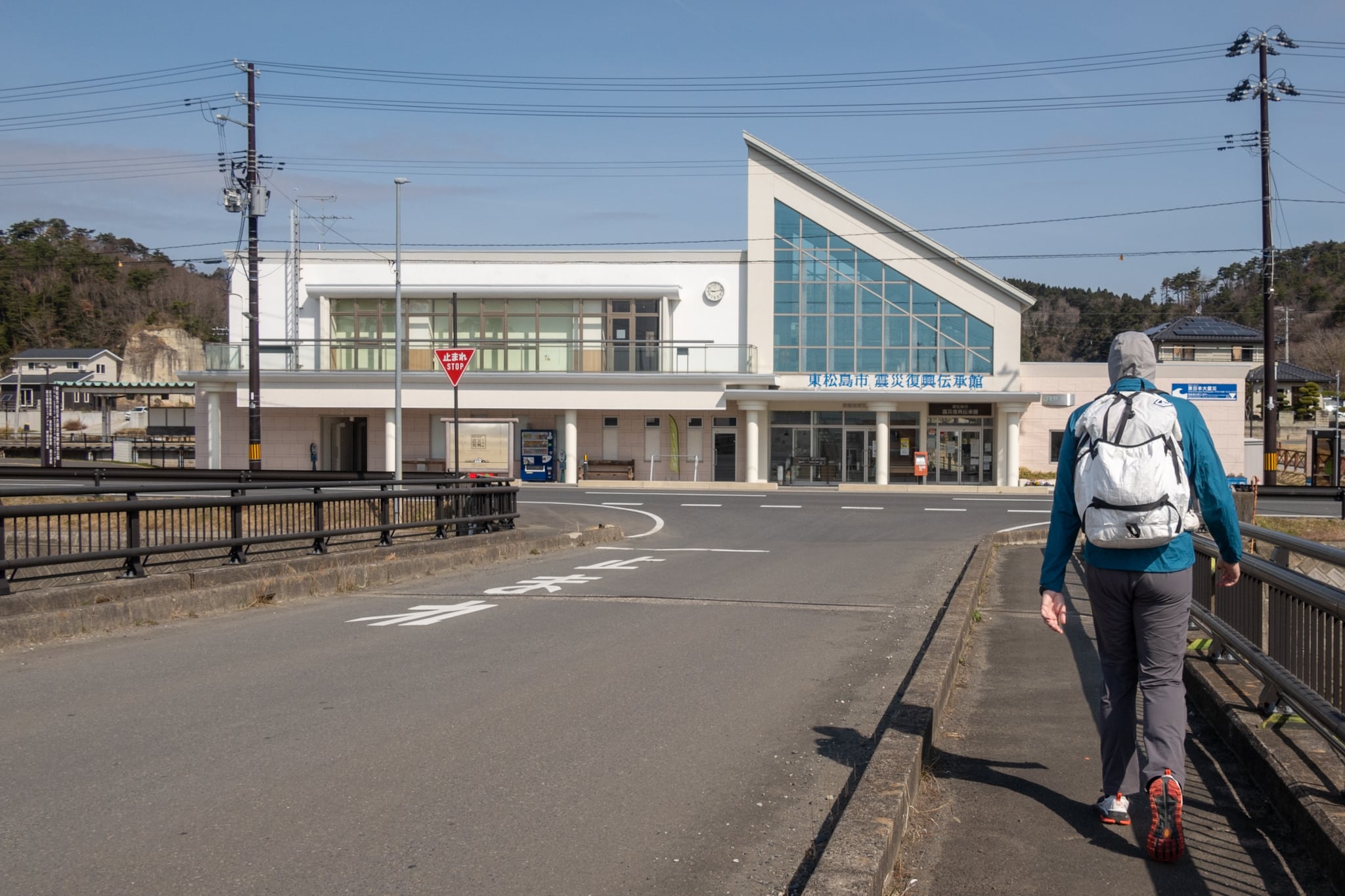 Just before we were about to hit the end of the sea walls, MCT route made a turn away from the walls. So we left the walls and started waking to the north.
We dropped by another Tunami disaster remains site (東松島市東日本大震災復興記念公園) for bathrooms and vending machines. This place was the original location of Nobiru Station (野蒜駅) and the destroyed platform and trail tracks are kept there.

Then, today again, we kept walking through another ordinary countryside villages and huge rice paddy fields. We rarely saw local people outside, probably still too early for their farming season. Only occasionally, cars passed by on very quiet driveways.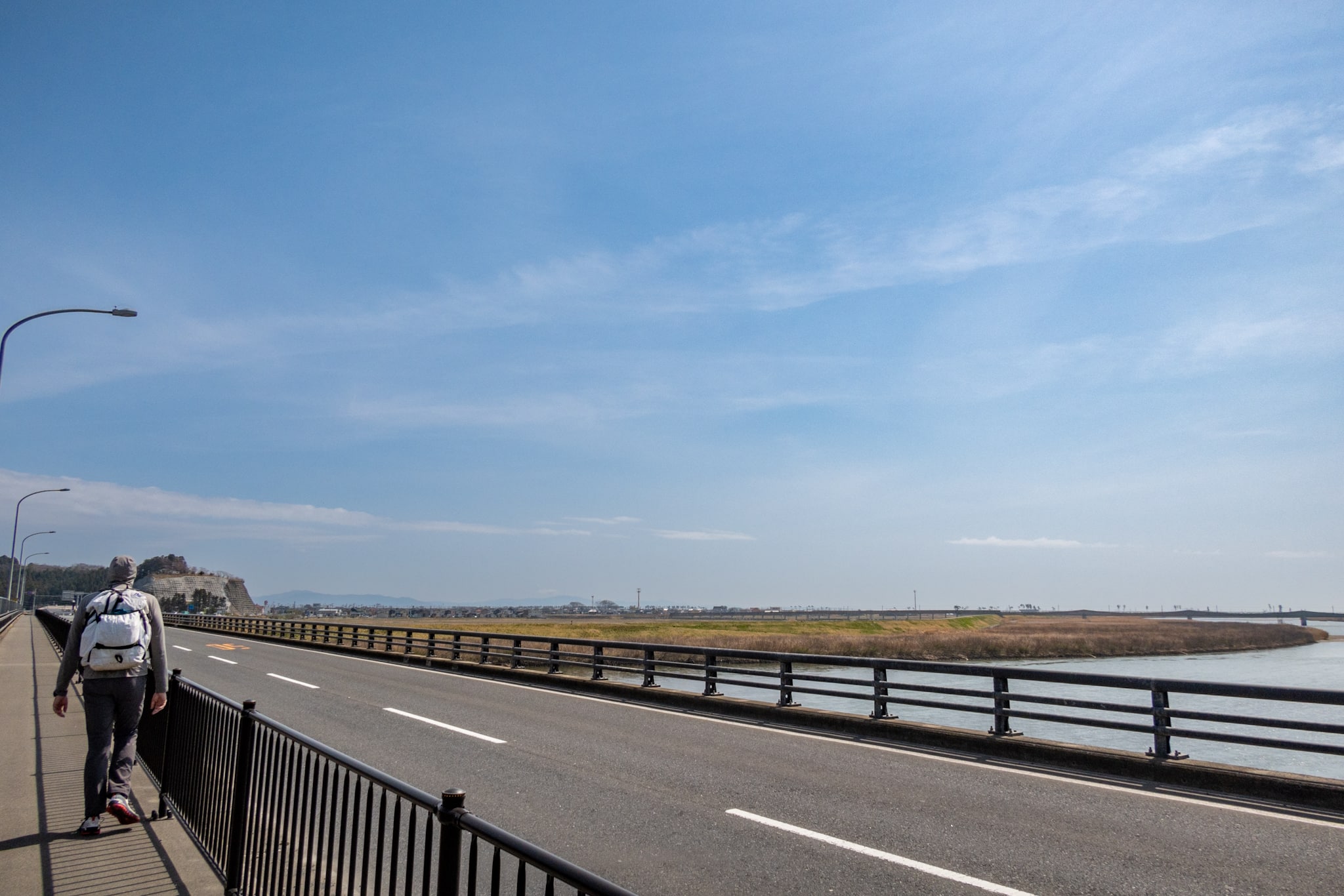 After crossing a big bridge over Naruse river (鳴瀬川), MCT route again made another big turn towards the south beaches.
This bridge was actually the closest to the river mouth to be able to cross to the river. Like it or not, we had no choice but walking about 3km up to the north, then another 3km just for getting back to the original coastal line.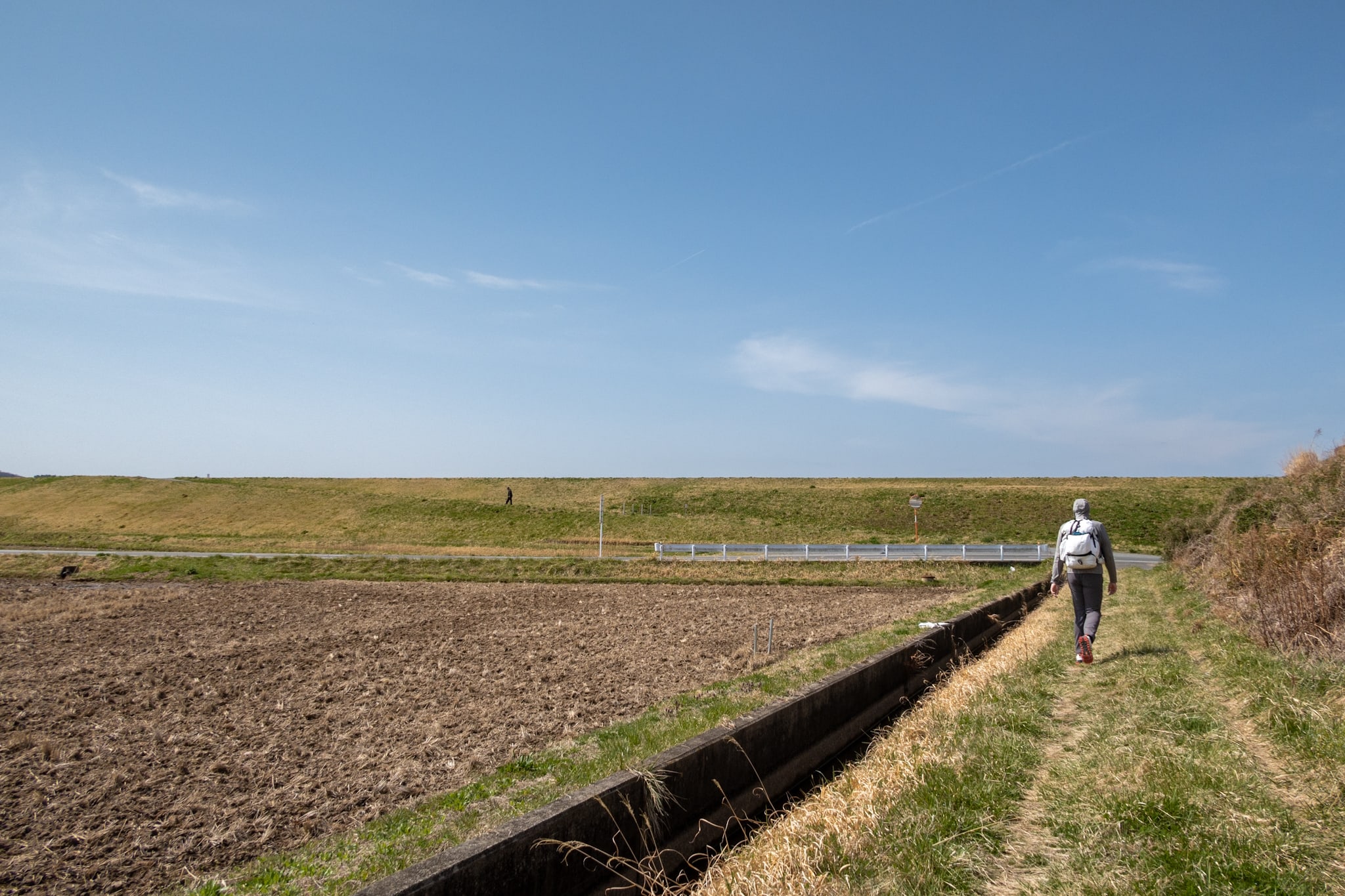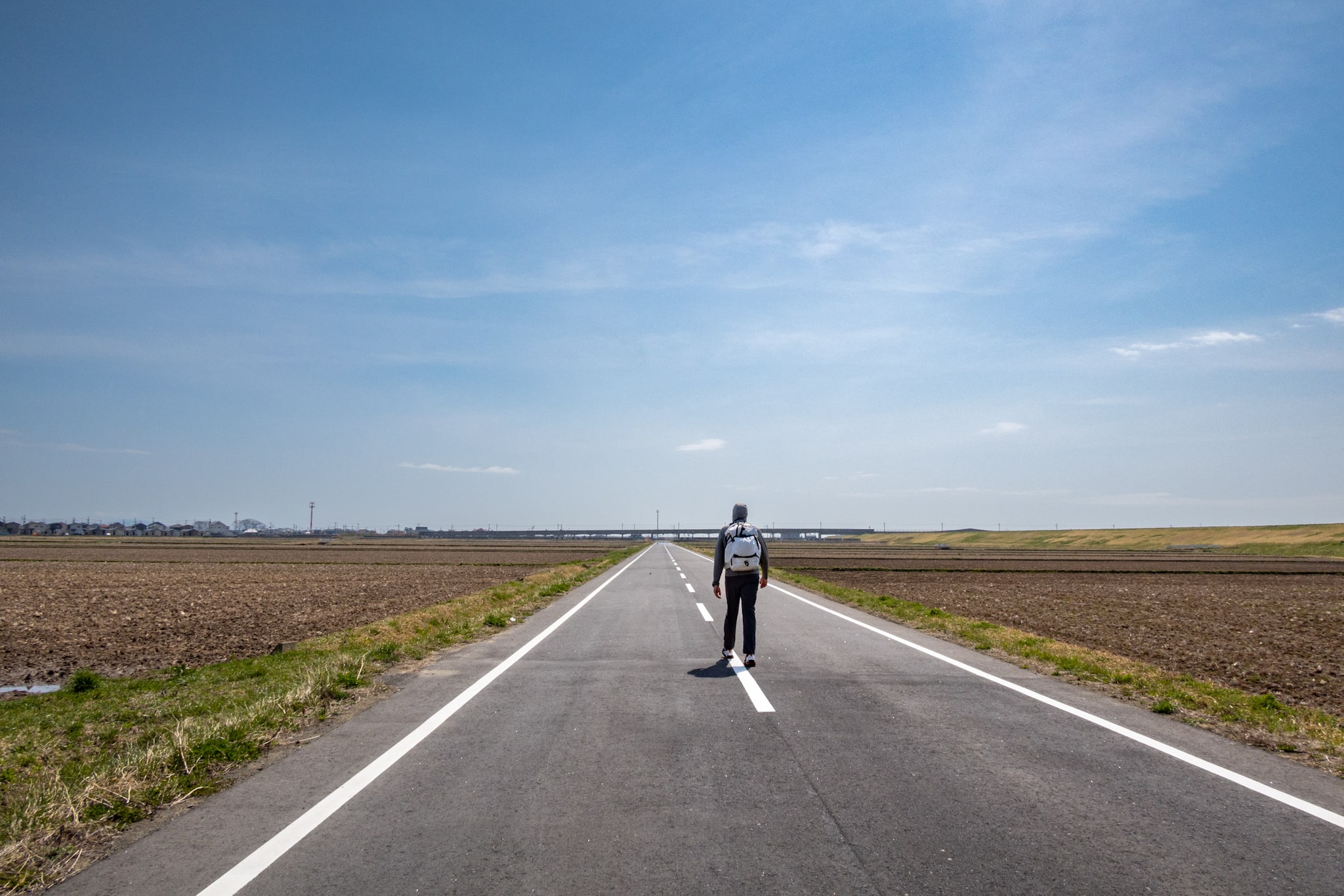 Super straight and endlessly long driveway awaited us there, cutting through huge rice paddy fields.

We even saw a horizon far over there.
A big road mirage like a paddle of water shimmering on the asphalt.
In the deserted land, we saw only one guy standing on the river bank, waving a long stick in his hand (don't know why).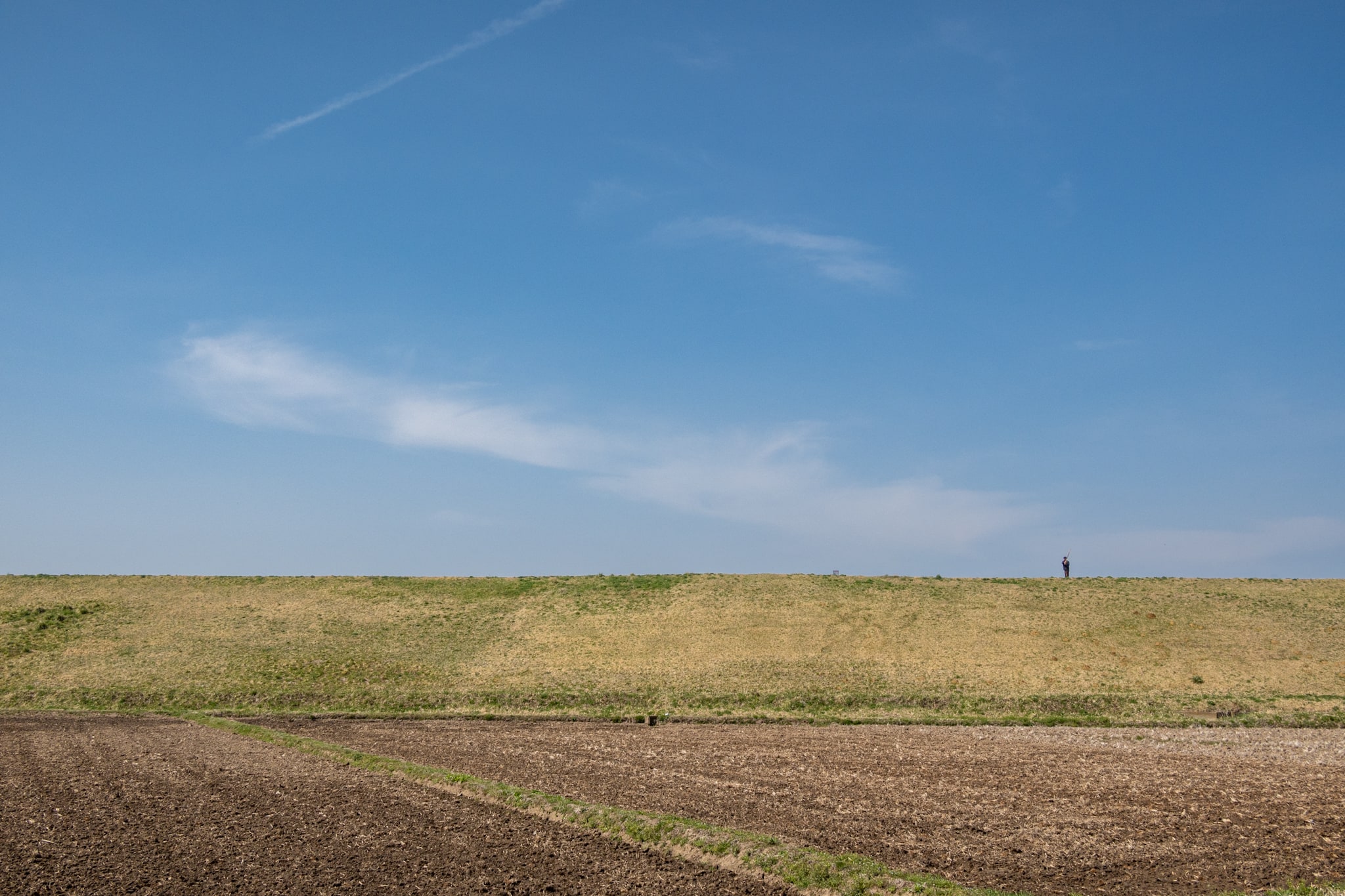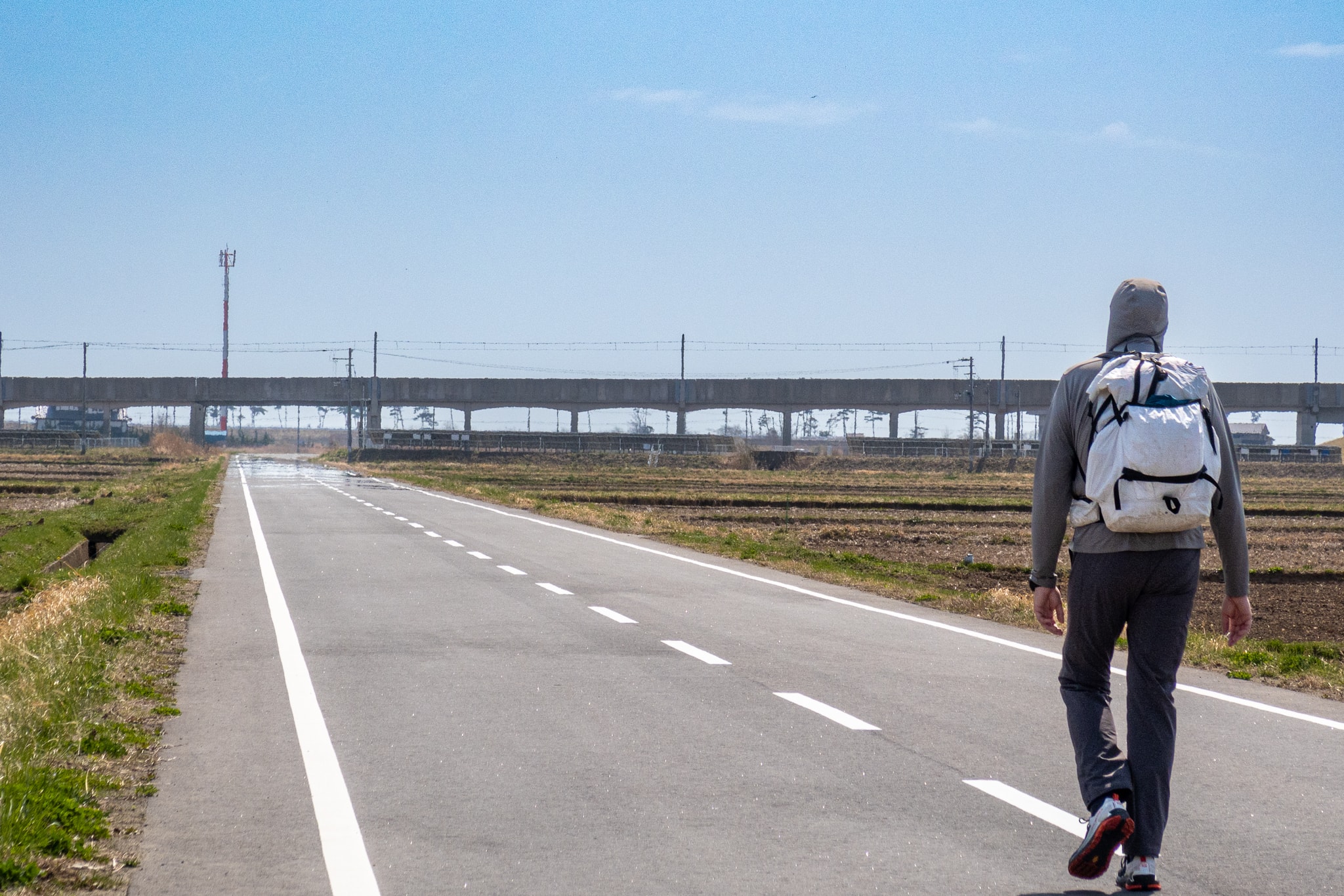 There, we could not see any pleasant signs for what kind of situations would be coming ahead of us.

Sorry to say this, but we had been already bored of today's monotonous walk.
Sigh, we still have more than 20km to go.

Meanwhile, I was getting a bit nervous about the food supply availability for the next some hours.
Since we left the last night lodging, we passed by only a small farmers market so far. I was not hungry so I decided to skip considering the signs of local signature baumkuchen on the market's windows.
Probably, I should've gotten that baumkuchen as my emergency food for today…
It was half way though our quiet walking on the completely exposed land, being totally grilled by strong sun light. Suddenly A tremendous roar of a jet fighter shook the silent land and knocked out our ear drums.

The jet fighter zoomed up from the behind of residential area over the rice paddies, made a steep, almost vertical, climbing turn in the upper sky and flew away in a sonic speed, leaving a beautiful jet contrail curved line in the blue sky.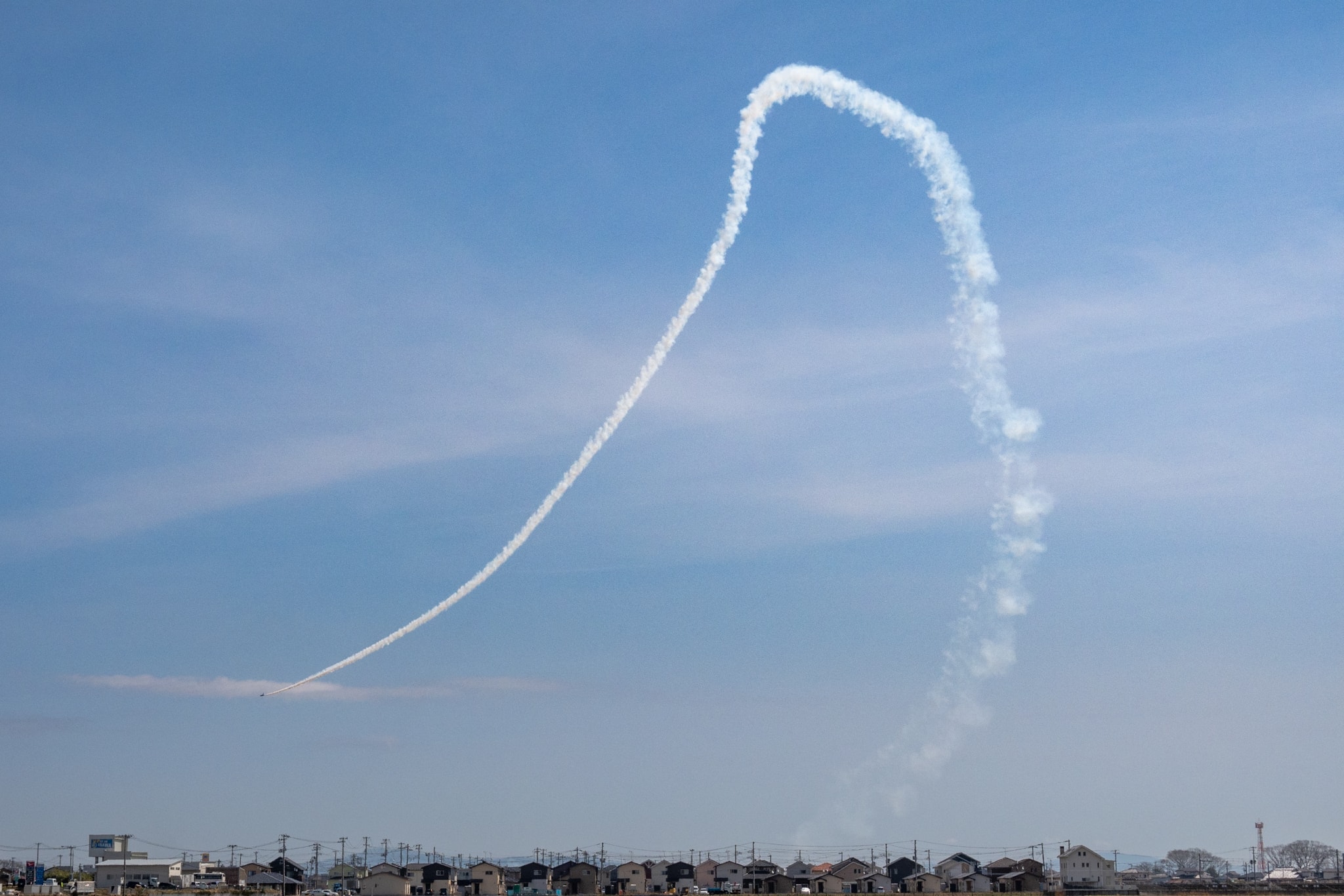 Since we live in rural mountain town in Shikoku, we had rarely seen actual jet fighters flight. So seeing it here was purely entertaining. for us.
But, I know it won't be entertaining if I have to keep hearing this roar every day like people living in those houses over there. Special thick soundproof glasses must be used for them.

We finally came back to the coastal line and sea walls. Here, another bicycle path (Kitakami Canal Bicycle Path : 北上運河自転車道)started.
Unlike the last one, this one had the distance markers on the both side fences to indicate how far away from the both ends.
According to the first marker at the starting point, our fate of walking on the super straight and concrete-paved bicycle path was going to continue for the next eight kilometers, of course with absolutely no sunshades.
I felt my footsteps suddenly became heavier but managed to make the first few steps of the eight kilometers. Then, luckily we saw a warehouse-like building, seemingly a fish packing factory, over an empty land by the bike path. As we had been mastering how to detect possible signs of vending machines, we spotted out not only one but two standing outside of the building entrance.

We stepped out of the bike road to get some drinks for life.
We MUST.

Bonus point, this machine even had Erik's favorite milk tea. Not only just one but almost half of the entire bottom row in the machine were the same milk tea.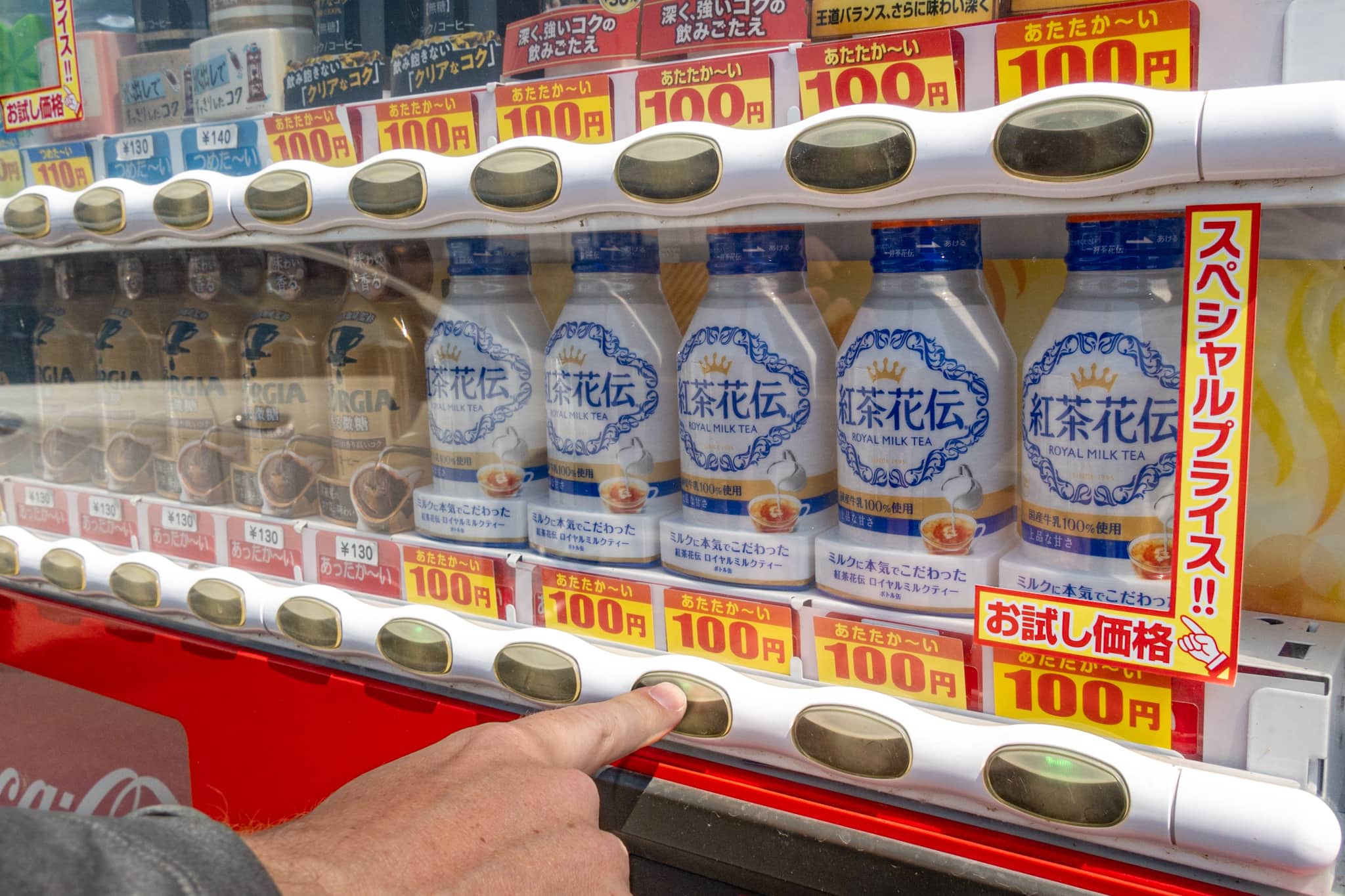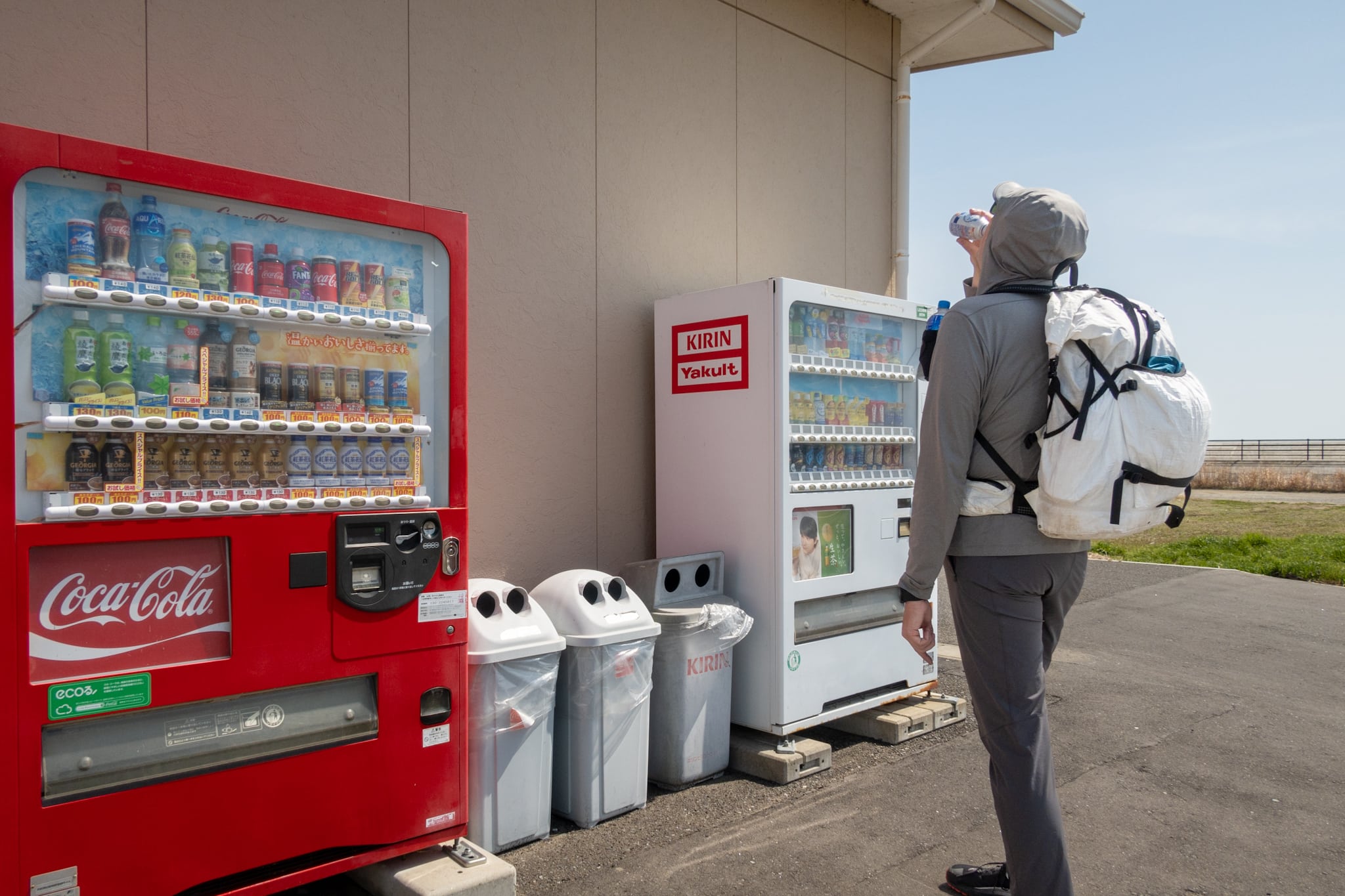 We were REALLY glad we got some drinks here.

Because later we found how lucky we were to be able to get water supply here.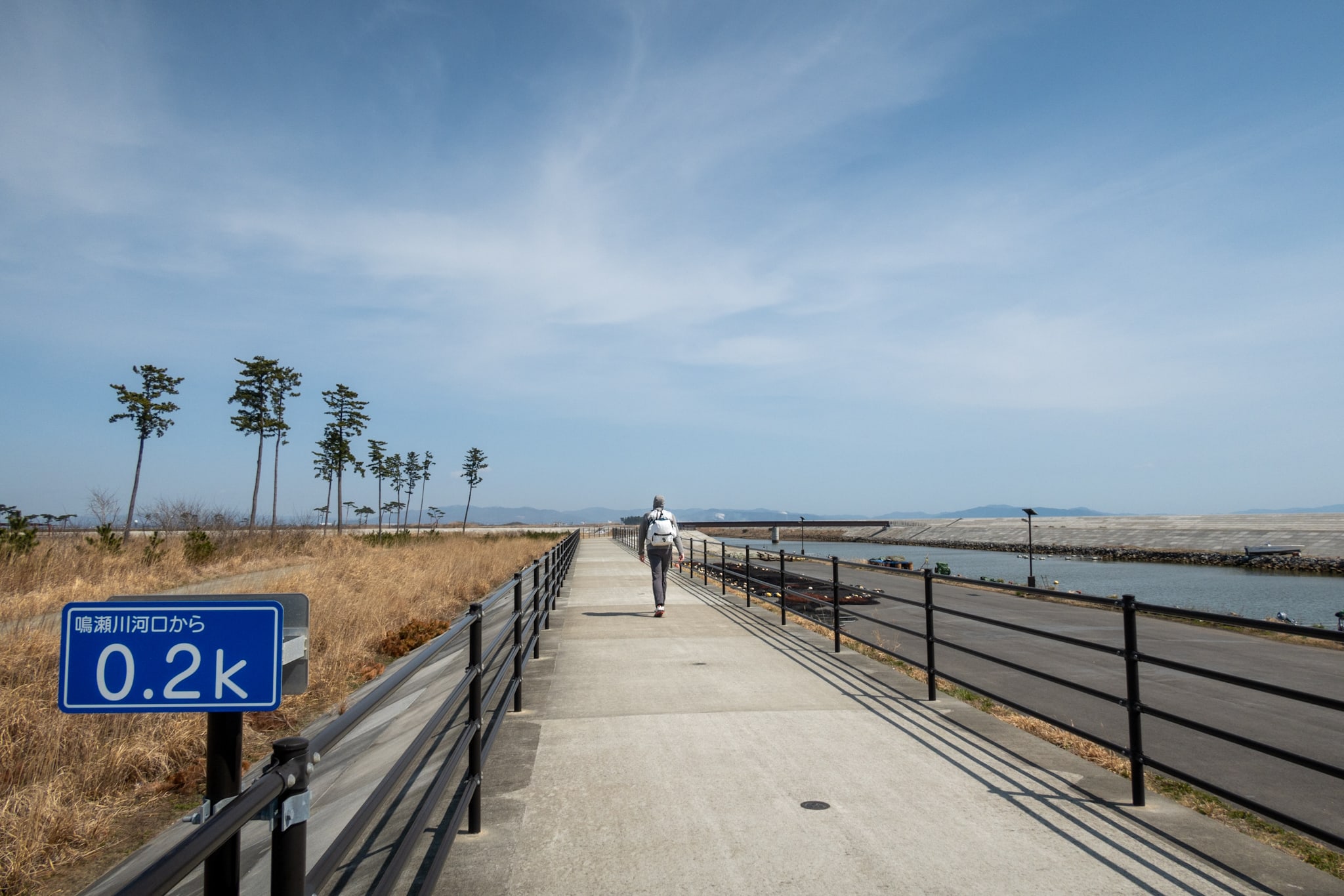 The last bicycle path we walked two days ago was running in the middle of growing windbreak pine forests so there was not much interesting view while we were walking. This canal-side bike road gave us views to much further.
Between the sea walls and the bike road, Kitakami canal runs sometimes in the right side of us and the other times in our left side. The opposite side was either big young pine tree forests or big deserted spaces.

Not having the seawalls close to us made a big difference to our walk this time. We were not shielded from the refreshing cool breezes from the ocean and they kept cool us down while we were totally exposed to sunlight from above and heated airs from the burnt heated concrete.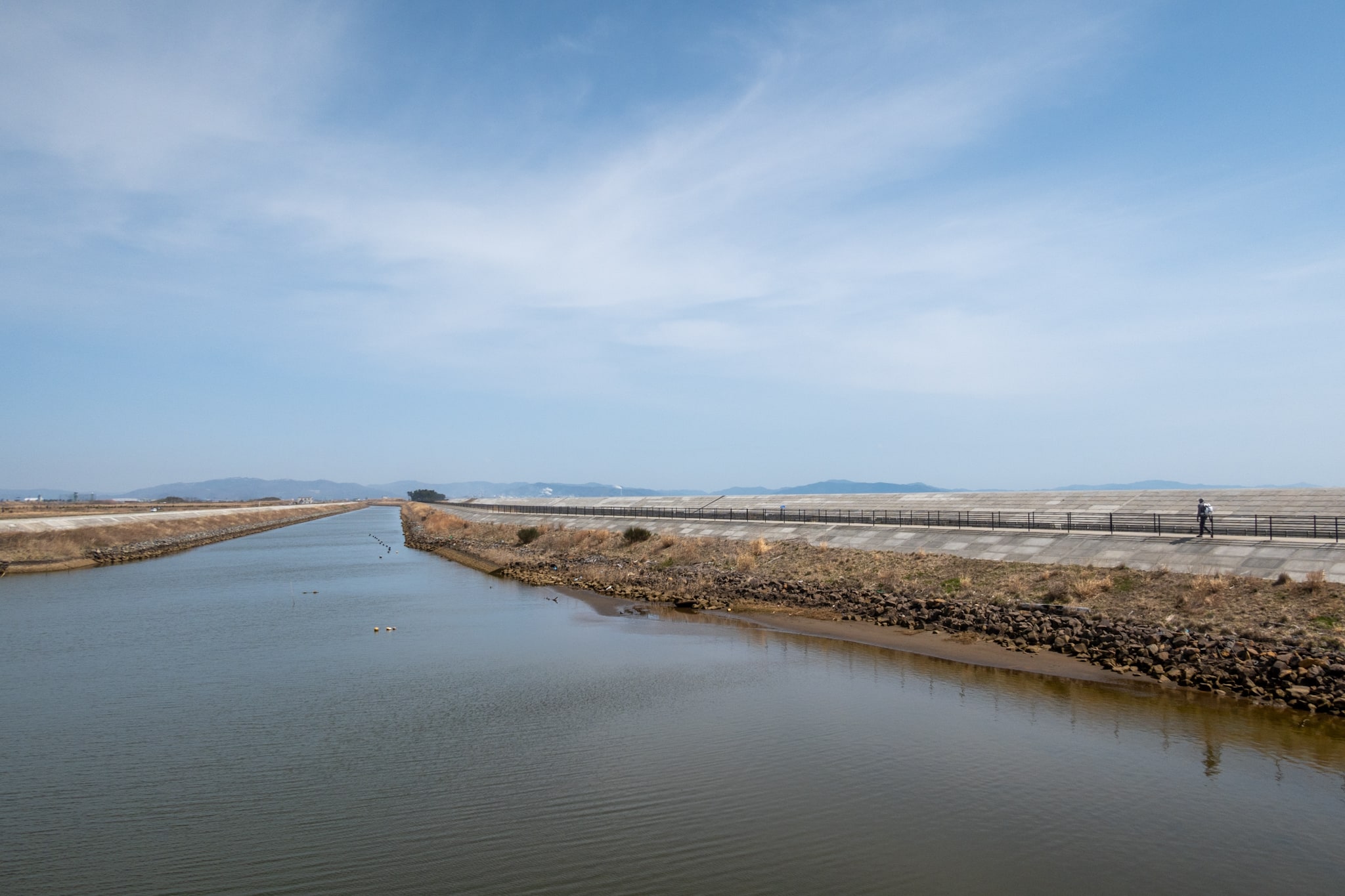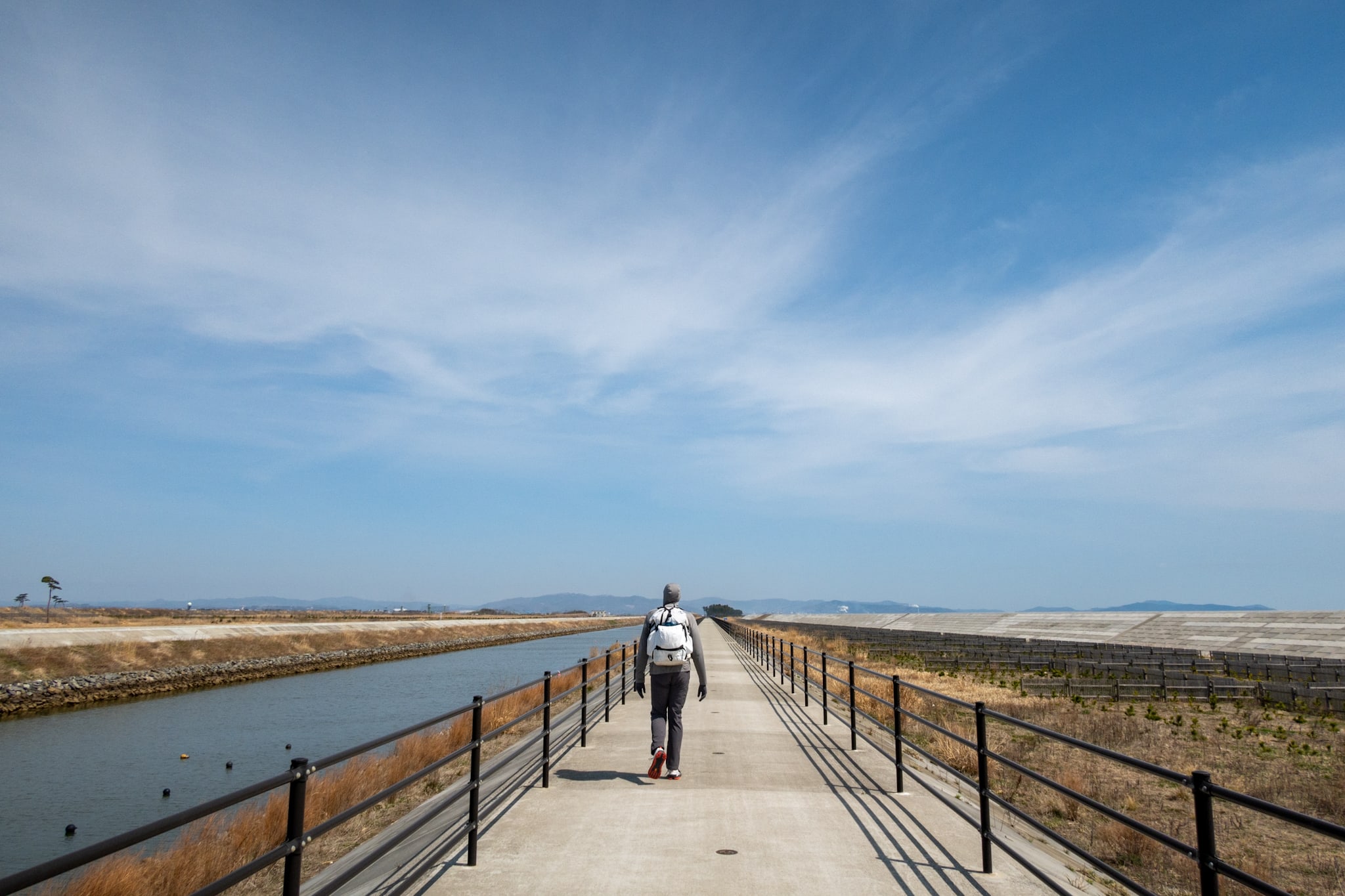 Almost entire time we were walking on the bike path, we saw a airbase of Japan Air Self-Defence Force and its runways over the canal.
Continuously air fighters took off, flying up and down, flew away to the north and came back landing. Many times, two fighters took off and flying together. At one time, four of them in a formation were flying.
With the huge helps of refreshingly cool sea breezes and the entertainment of the unexpected air shows, I kept walking in quite a good pace and surprisingly hadn't felt pain on my back or feet yet.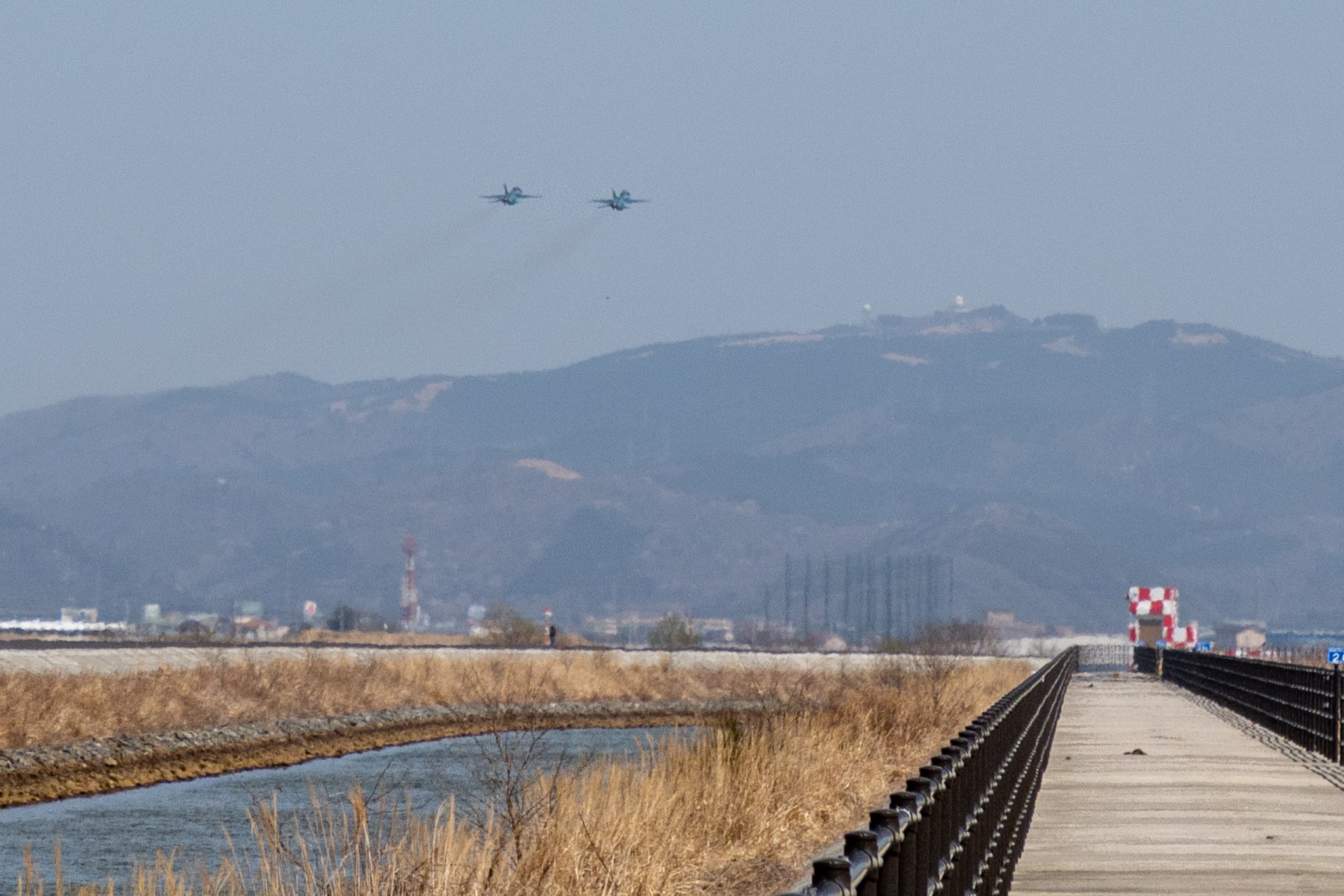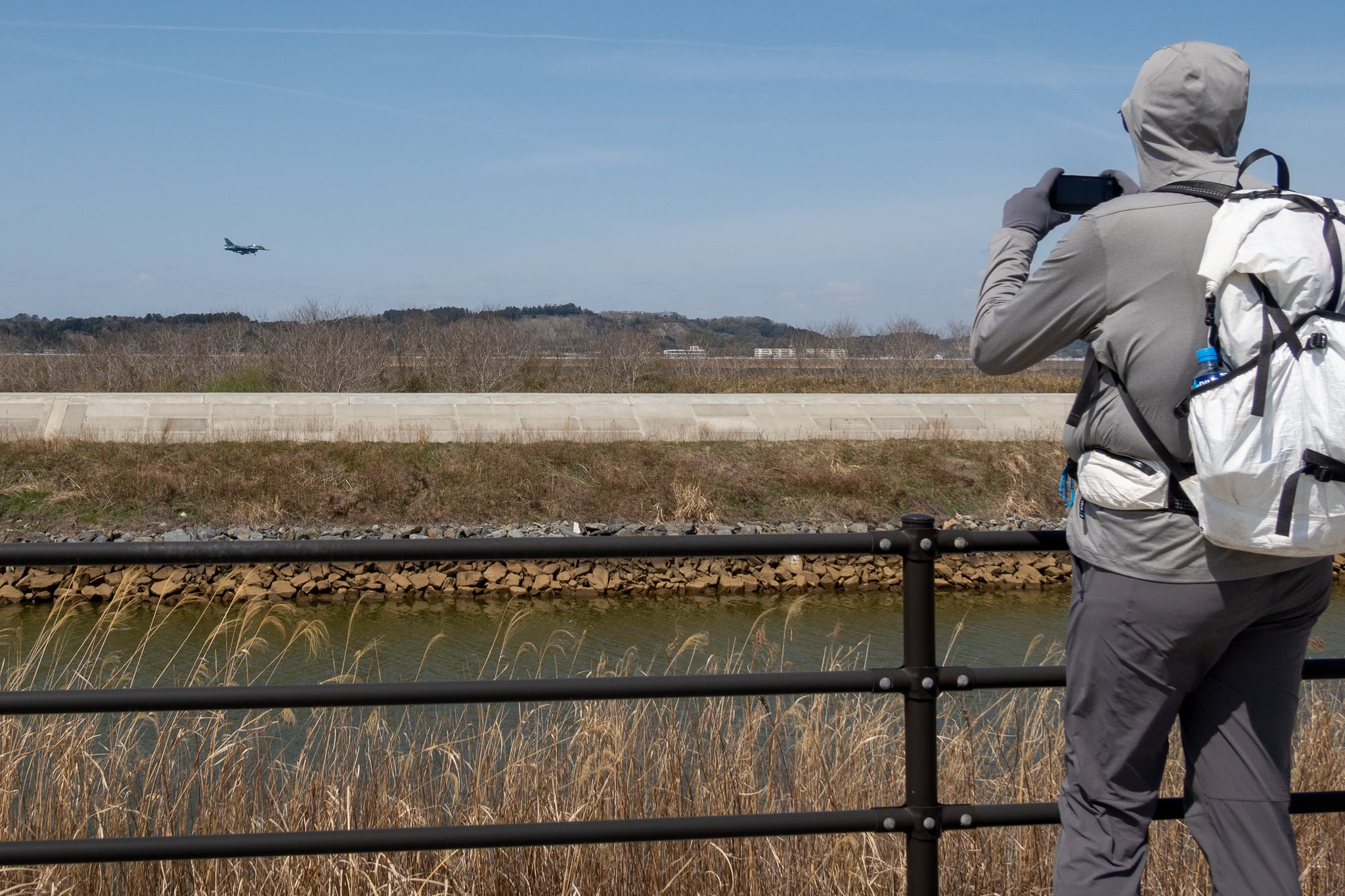 Actually, I felt different today. Since this morning, I had been feeling good and strong.
I guess, after the painful struggles during the first week, my body was finally getting back in shape and becoming stronger to walk longer distance.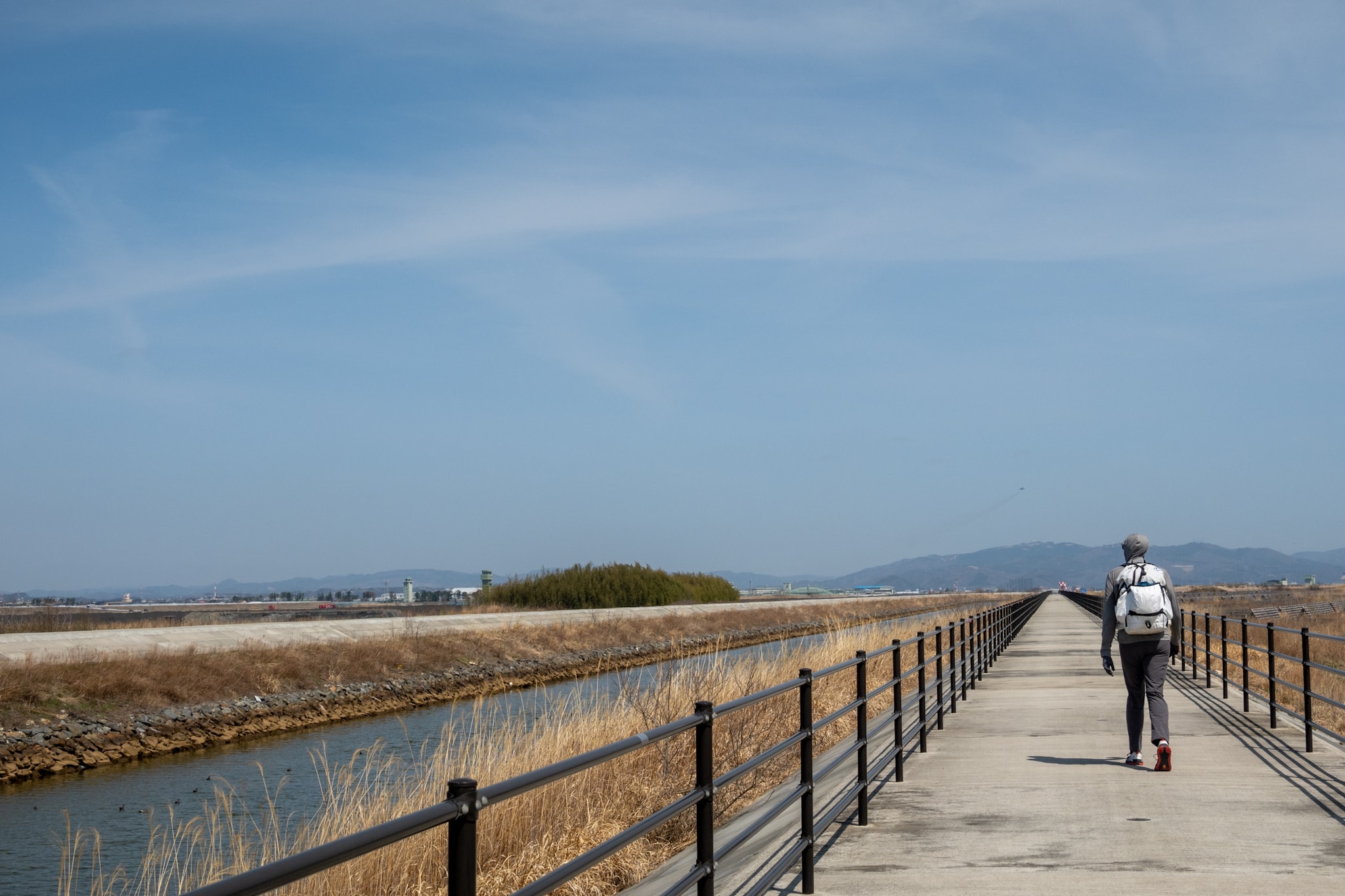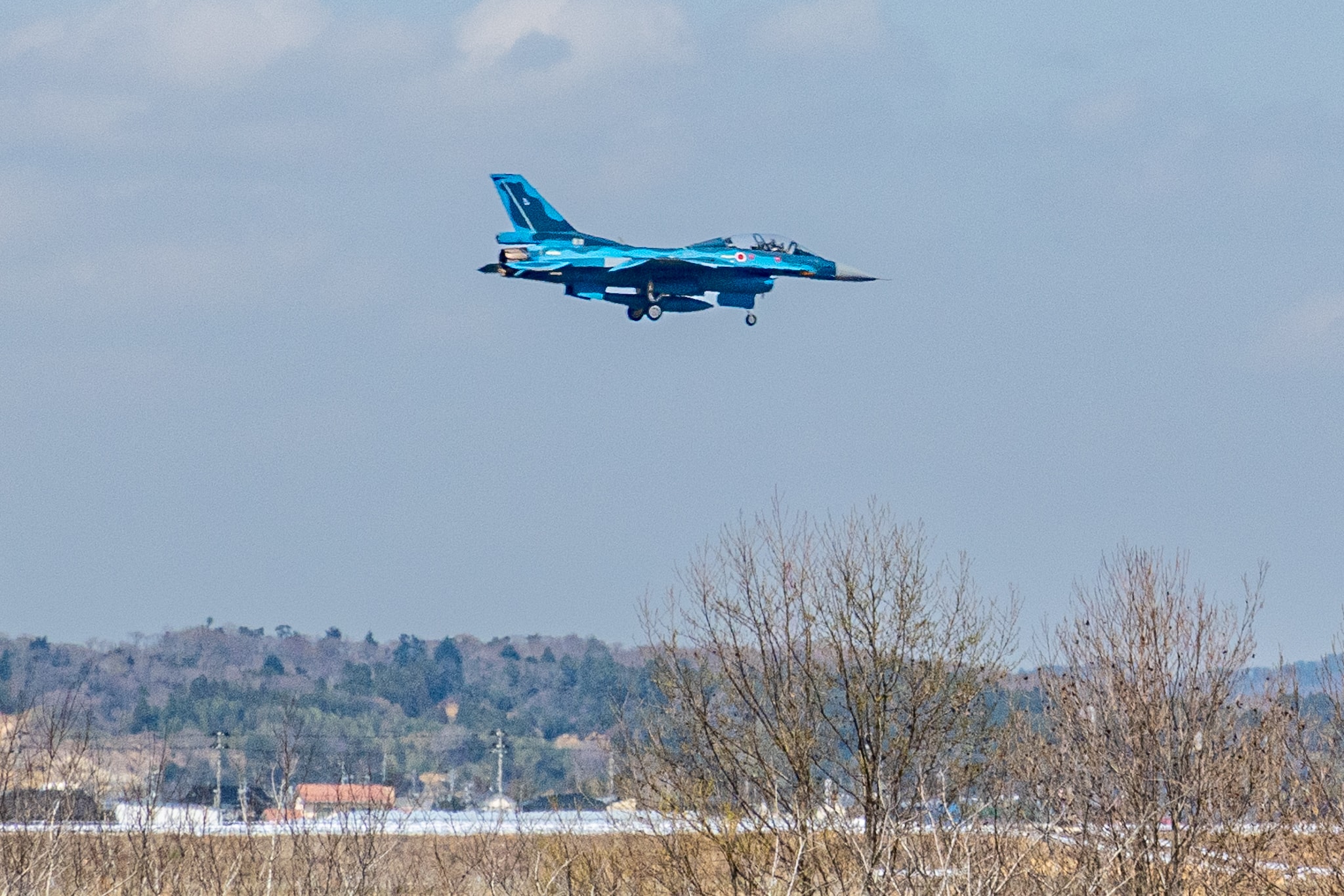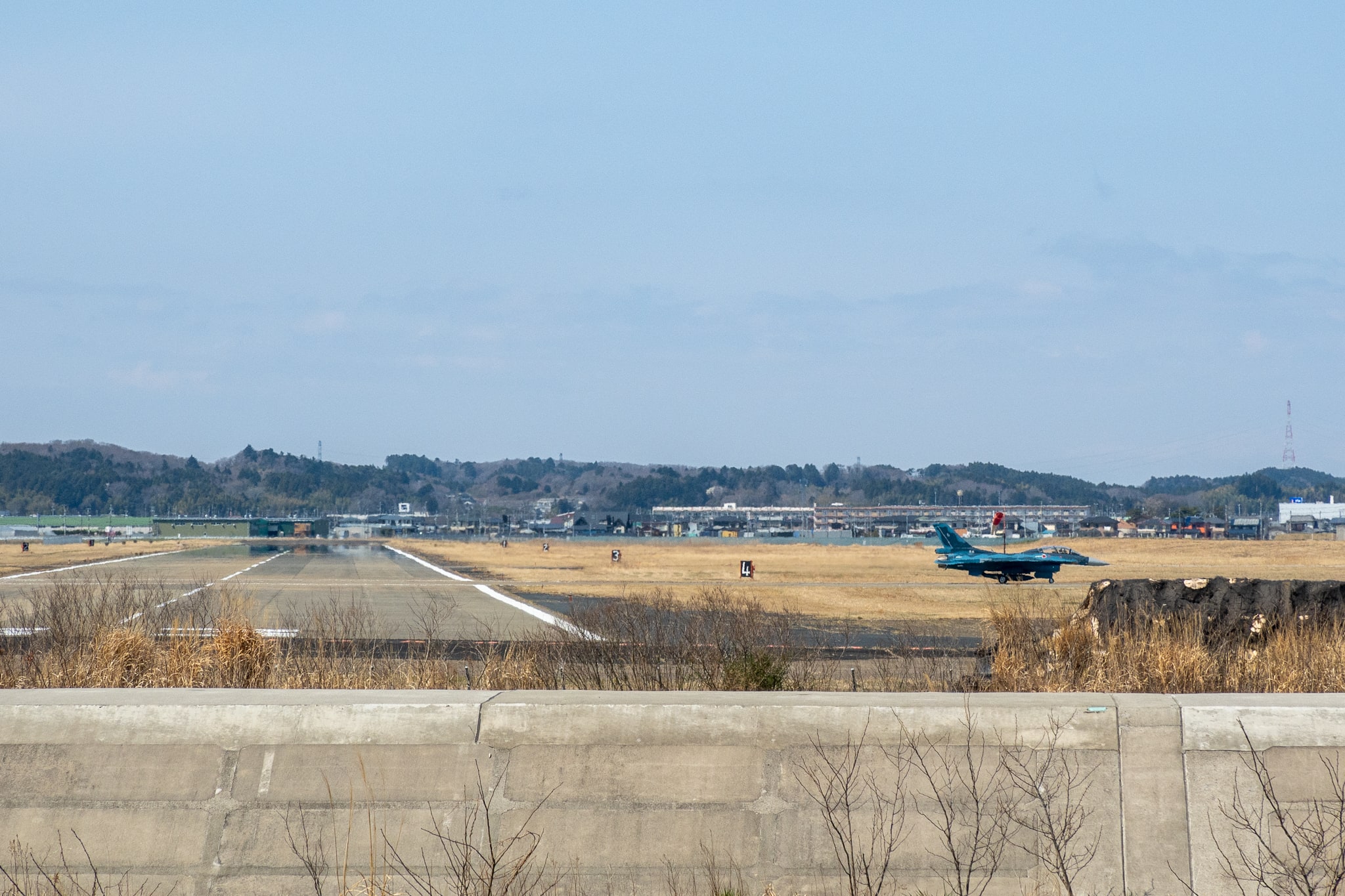 We saw only one biker coming from the opposite end passing by us and that was all for today on this straight bike path. Unlike the last bicycle road in Sendai, there was no rest hut or anything alike on this canal-side path. Not even benches. Probably because it is right next to a airforce runway, which is not supposed to a place for the general crowds to hang out, there were no parks, no water point, and no bathroom either.

I believe we were lucky that the weather supported us today. If anyone dare to hike on this part on a sunny day during the hot season of the year, I really suggest you to be well-prepared.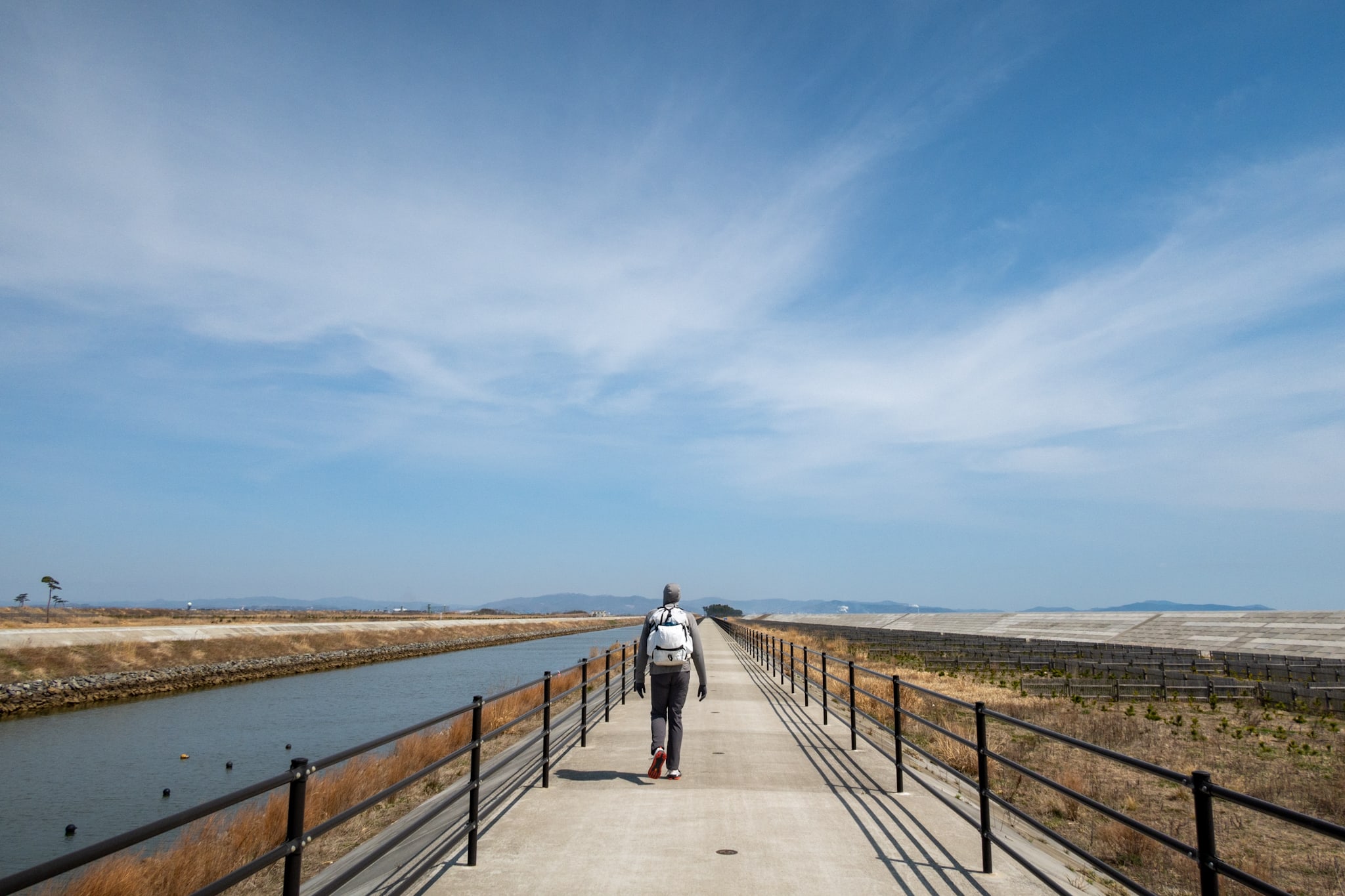 As we were passing the edge of the airbase, about 1.3km to the end of the bicycle path, we found a big park between the seawalls and us. A bunch of kids and young parents were enjoying their day.
We got excited for the hope of bathrooms and vending machines, but quite quickly we found a metal net fences guarded the park from us and we had to go all the way around to the park entrance to get them.
Next to the kids park was a big ground-golf (very popular among elders in Japan) field and a lot of local seniors were enjoying hitting the small balls. We saw another bathrooms and vending machines there too, but… yeah again, fences.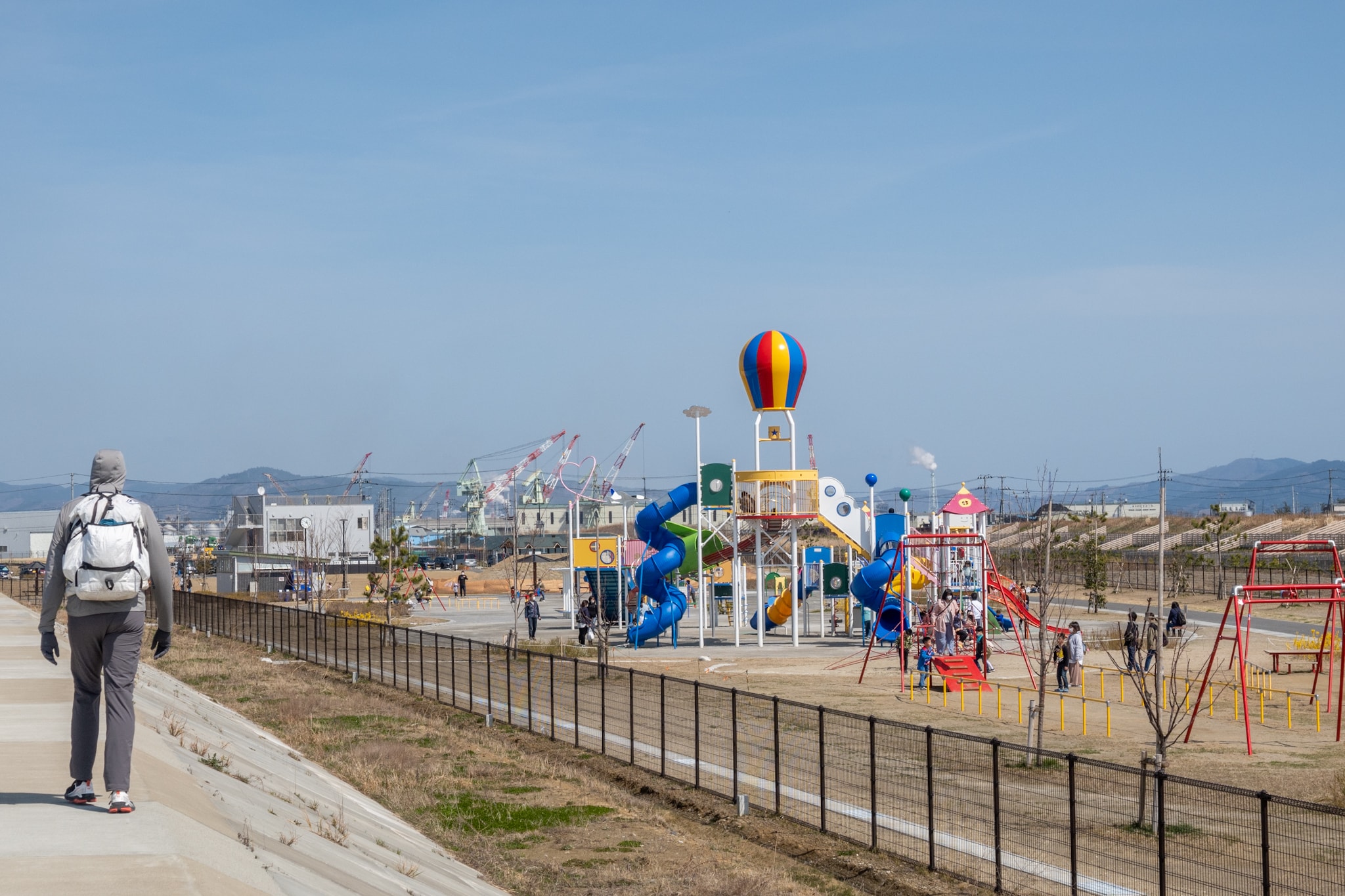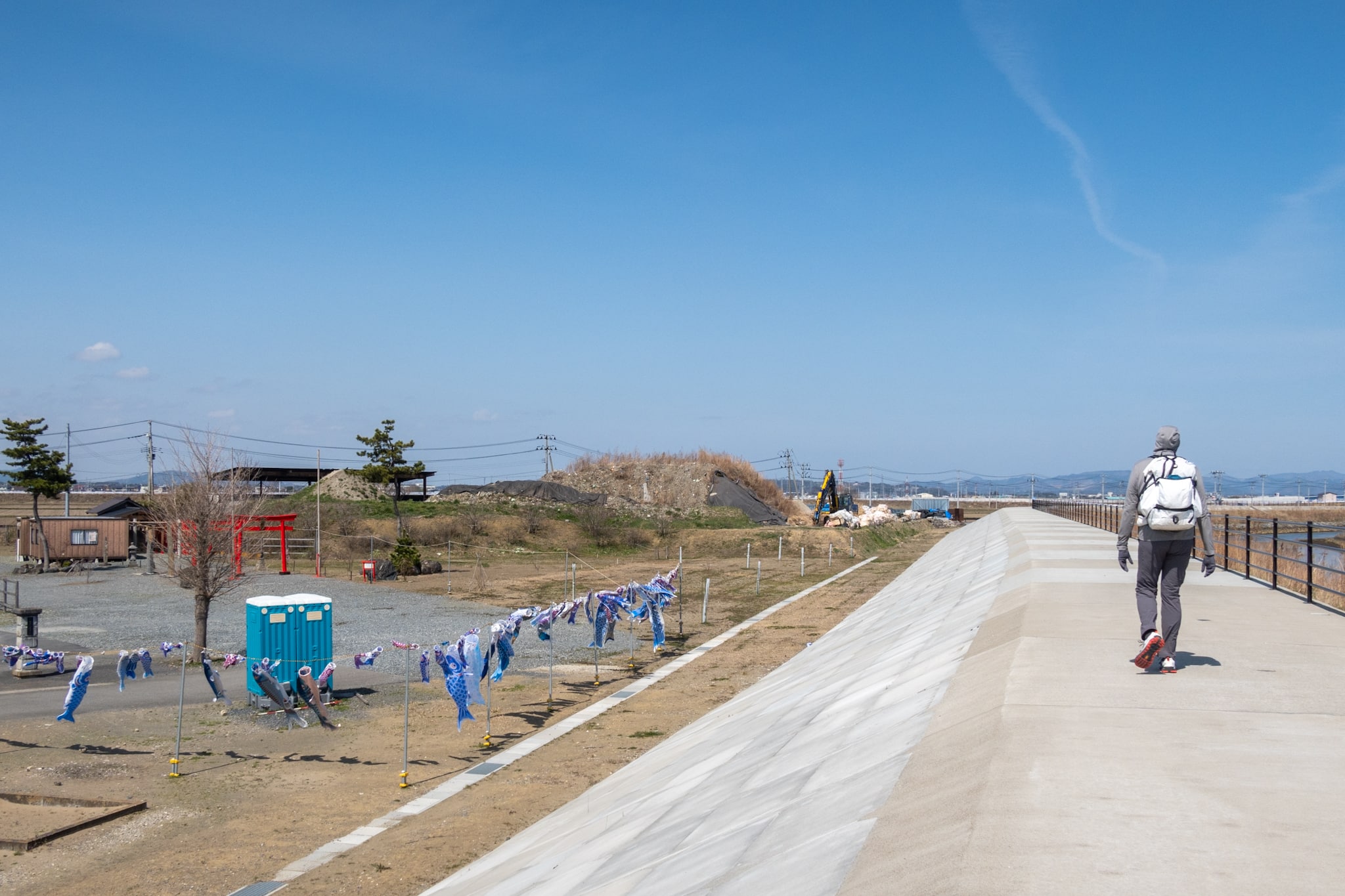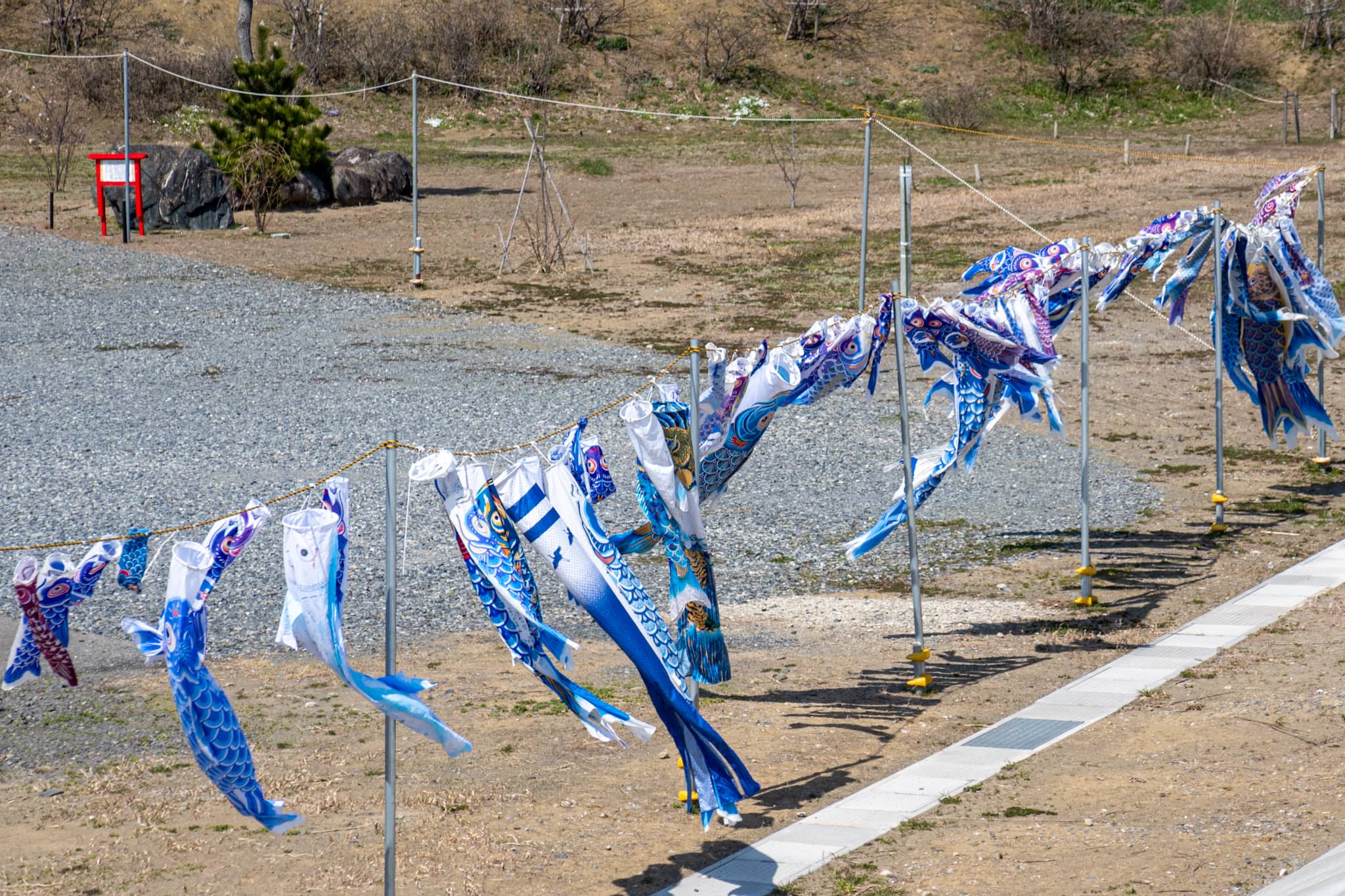 Along the MCT route, there are many many weird or unreasonable turns and detours, which don't make sense to us at all. We saw another example here today.
On the map, this bike path keeps going straight, crosses the border between Higashi-Matsushima city and Ishinomaki city on a bridge near the mouth of the city border river, and goes further along the canal. But MCT route made a really random turn just before reaching the border bridge and started going up to inland.
According to the MCT map, this detour was going to near Rikuzen Akai station (陸前赤井駅) and cross the border river there and coming back along the other side of the border river to exactly the opposite side of the river mouth bridge.

Over four kilometers of extra walks to get to the same point we could reach in one kilometer if we had kept going straight.

Well, I tried not to see the shortcut and we kept walking on the exact route on the map.
If we skipped all of these unreasonably detouring parts and kept taking shortcuts, the MCT's total distance may not reach 1000km. Besides, at least this route was going through a busier town area with convenience stores and probably some casual restaurants for lunch.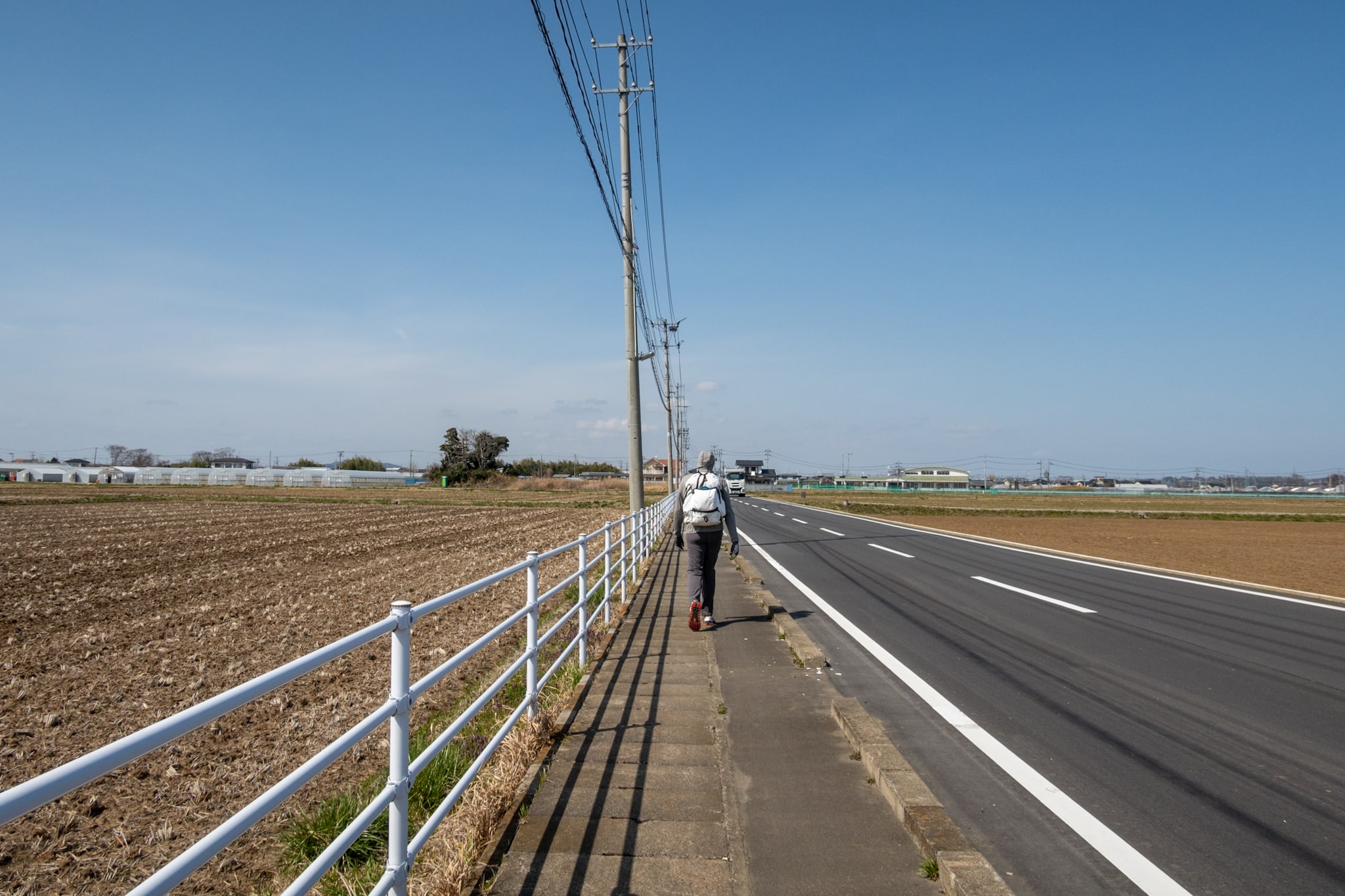 We took a long-awaited lunch break at a family restaurant near the train station and evaluated our condition (mostly my leg and back condition) to decide if we should continue on our way or not.

From here to the ferry port, still 15 more kilometers to go.
Erik told me that I should not force myself to overkill. I totalIy agreed with him. We still have way more than one month of walking until we get to the north-side trailhead in Aomori.
At the same time, I felt my body condition was still quite good. I promised him that I would take taxi anytime I start feeing pain or I could not walk any more. With that in mind, we decided to keep walking, aiming to reach the ferry port.

Then, I checked my all time favorite Rakuten Travel to look for a room for us at any business hotel in downtown Ishinomaki area available for tonight. There is no accommodations right by the port anyway, so we picked up our favorite business hotel chain and booked it by quickly tapping on my iPhone some times.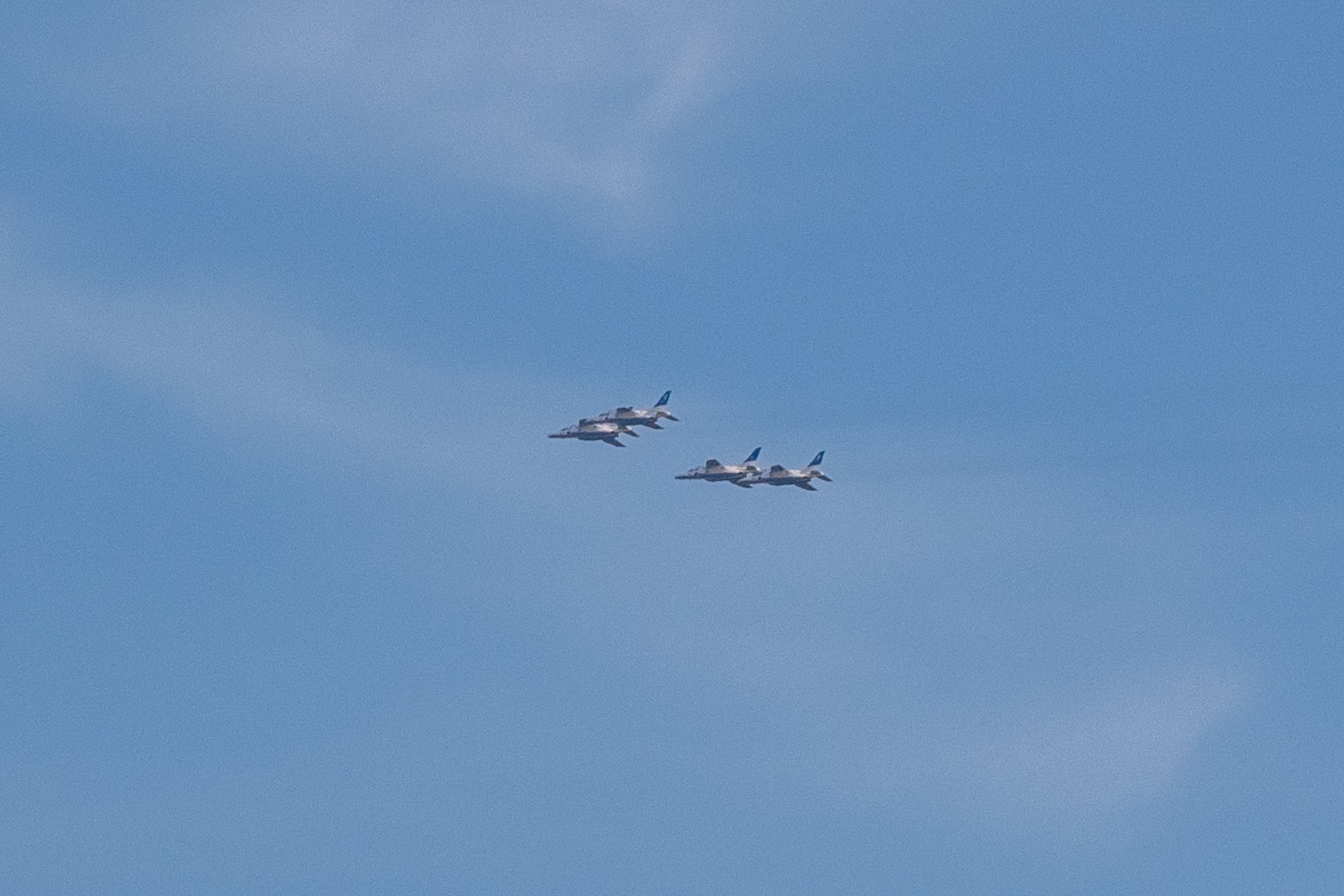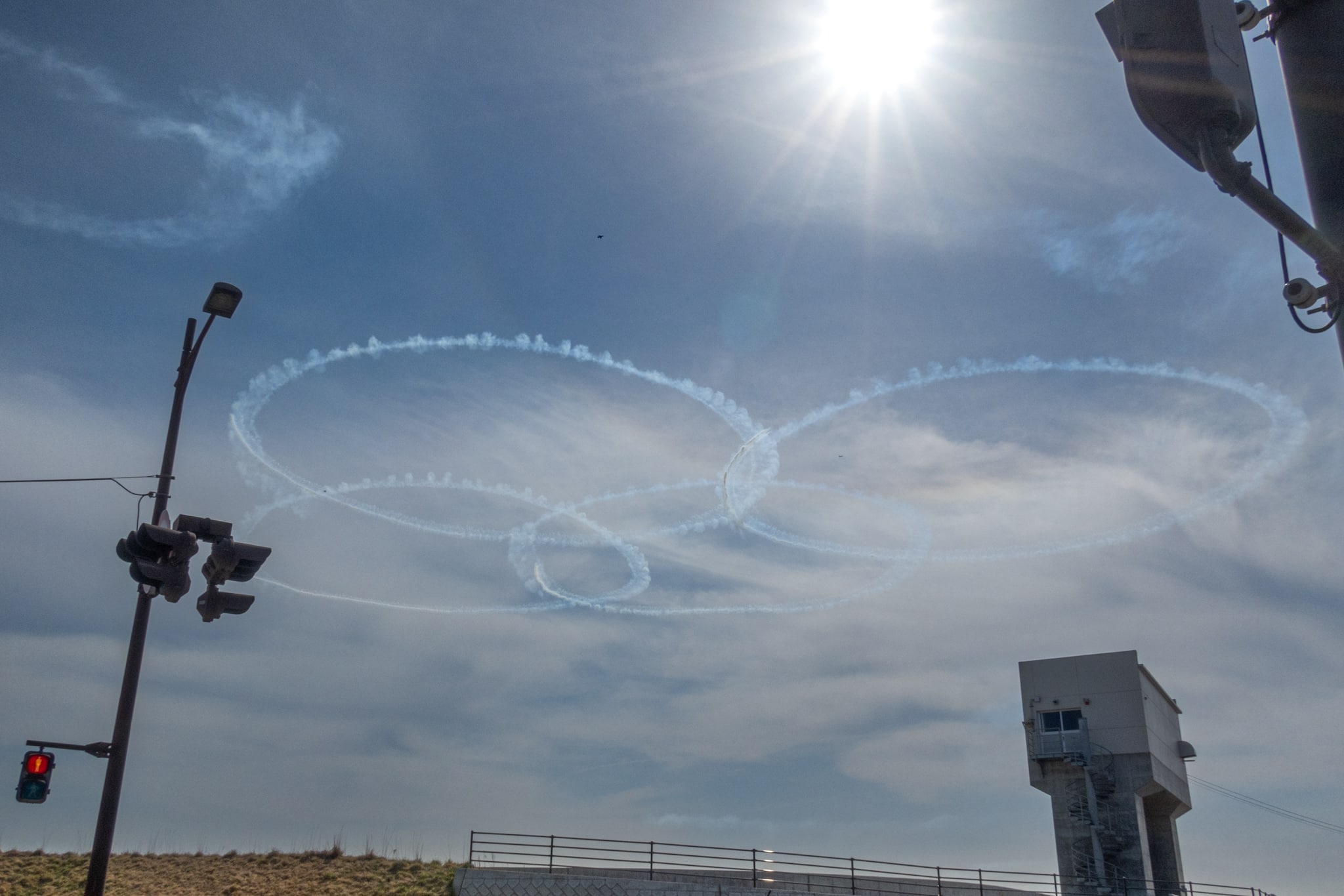 I decided not getting back to the point we left the route for lunch. The route was supposed to go along the city border river bank and then, re-join the canal-side road. We just walked straight down to the canal from the restaurant through a quiet residential neighborhood.

Now the Kitakami canal was cutting cross the city's busy housing areas.
The canal was built more than 100 years ago for transportation. Rows of old pine tress standing along both side of the canal and old canal bunk road had been turned into nice walking paths for local people.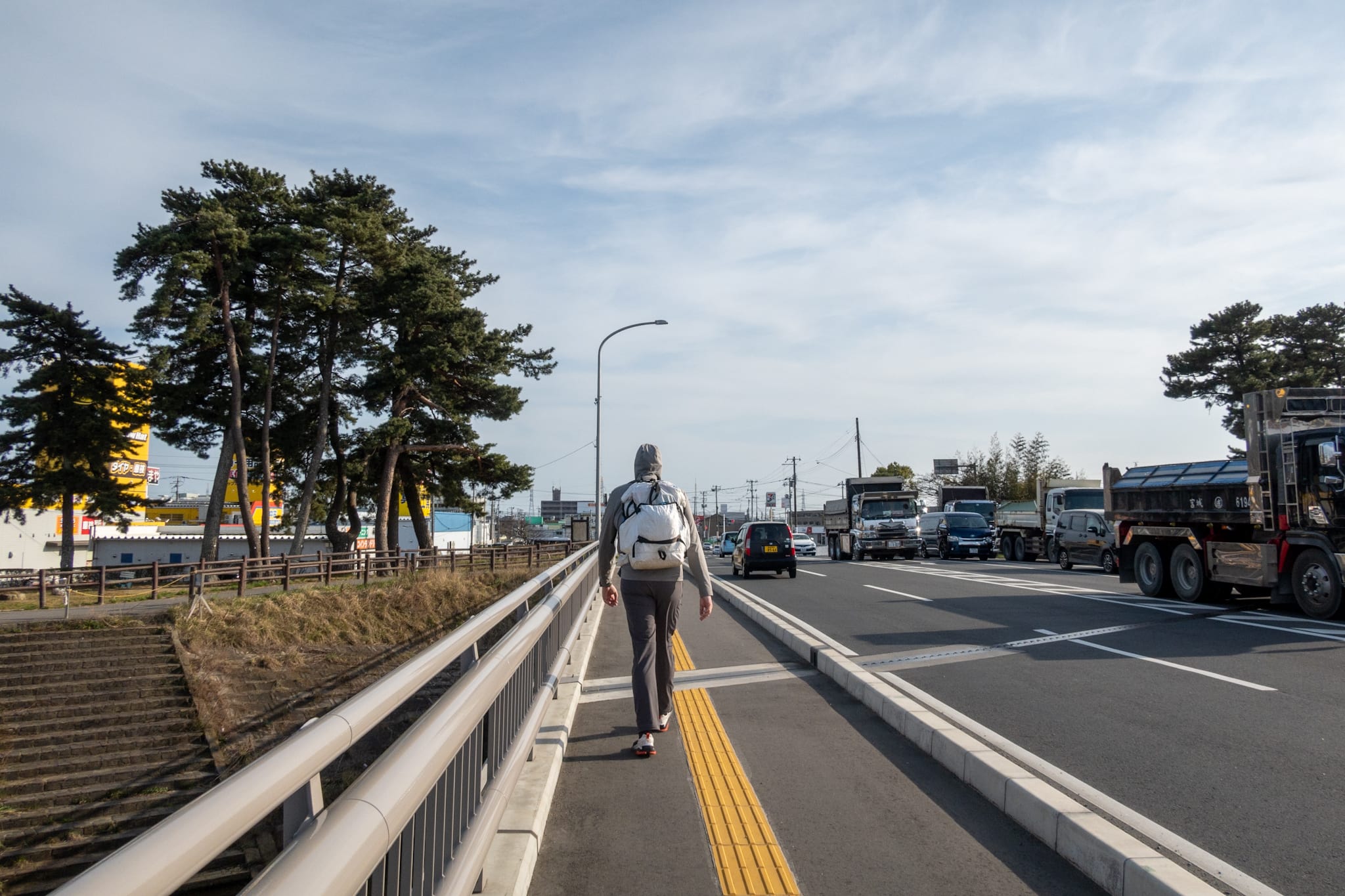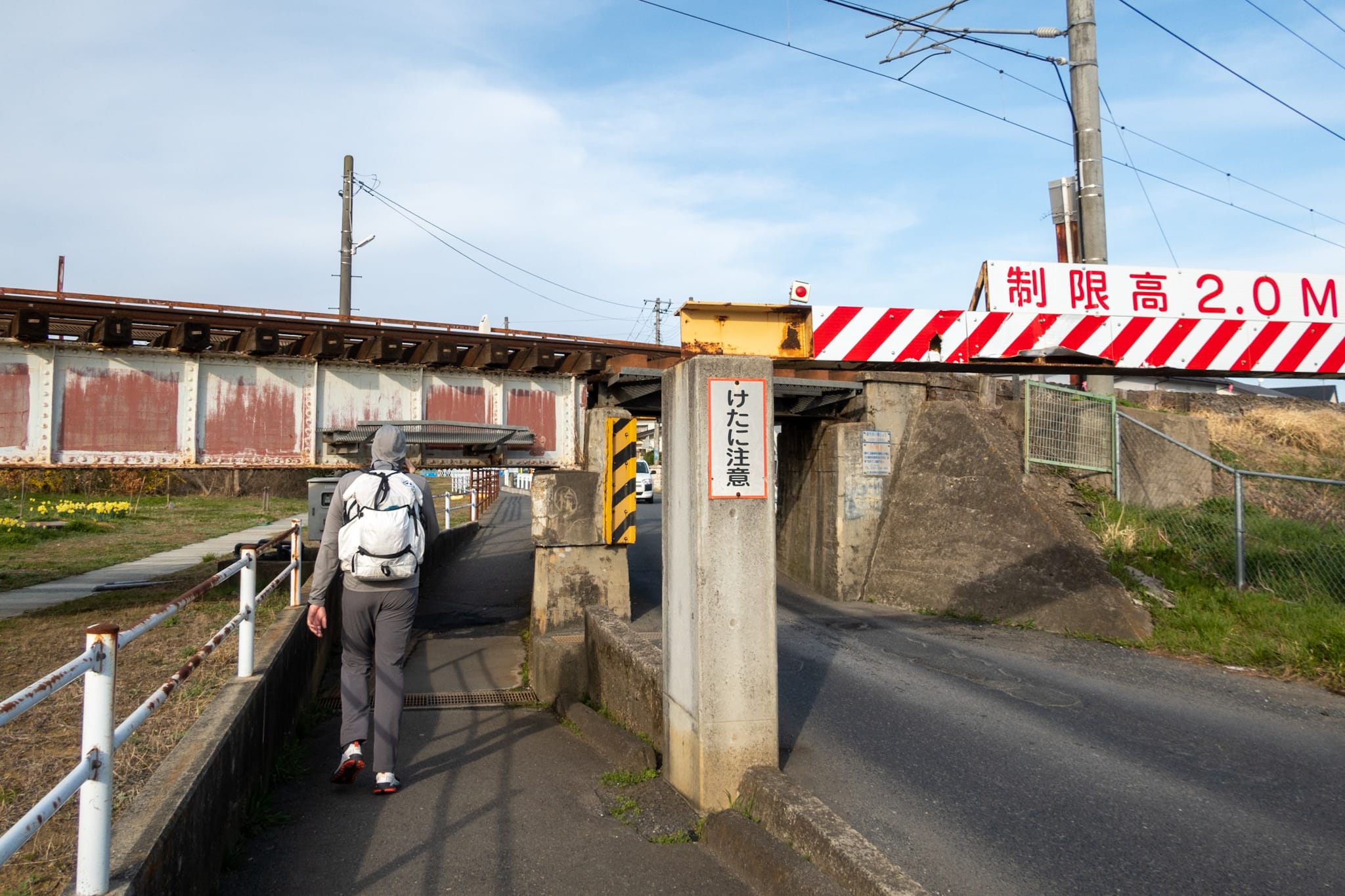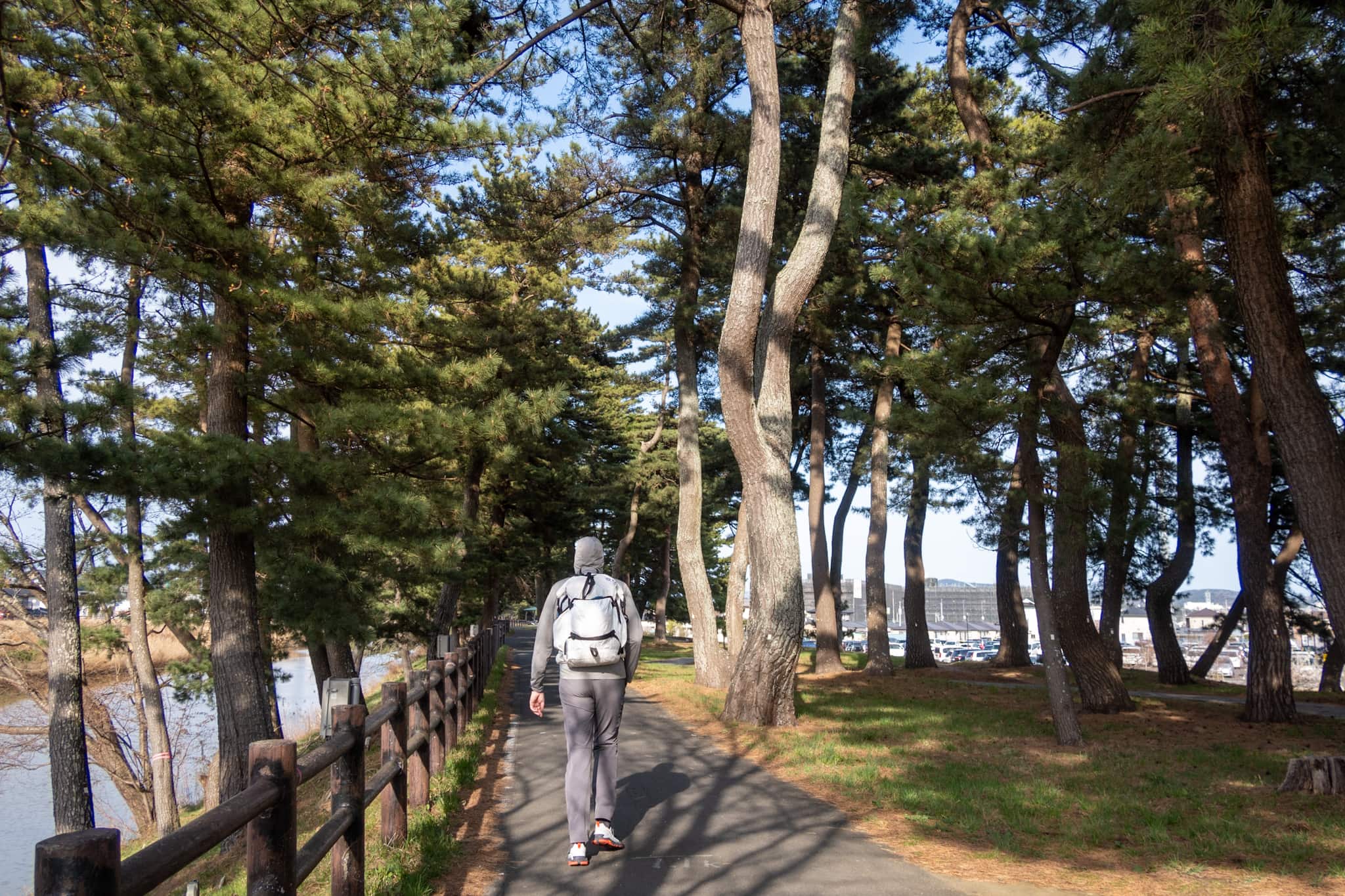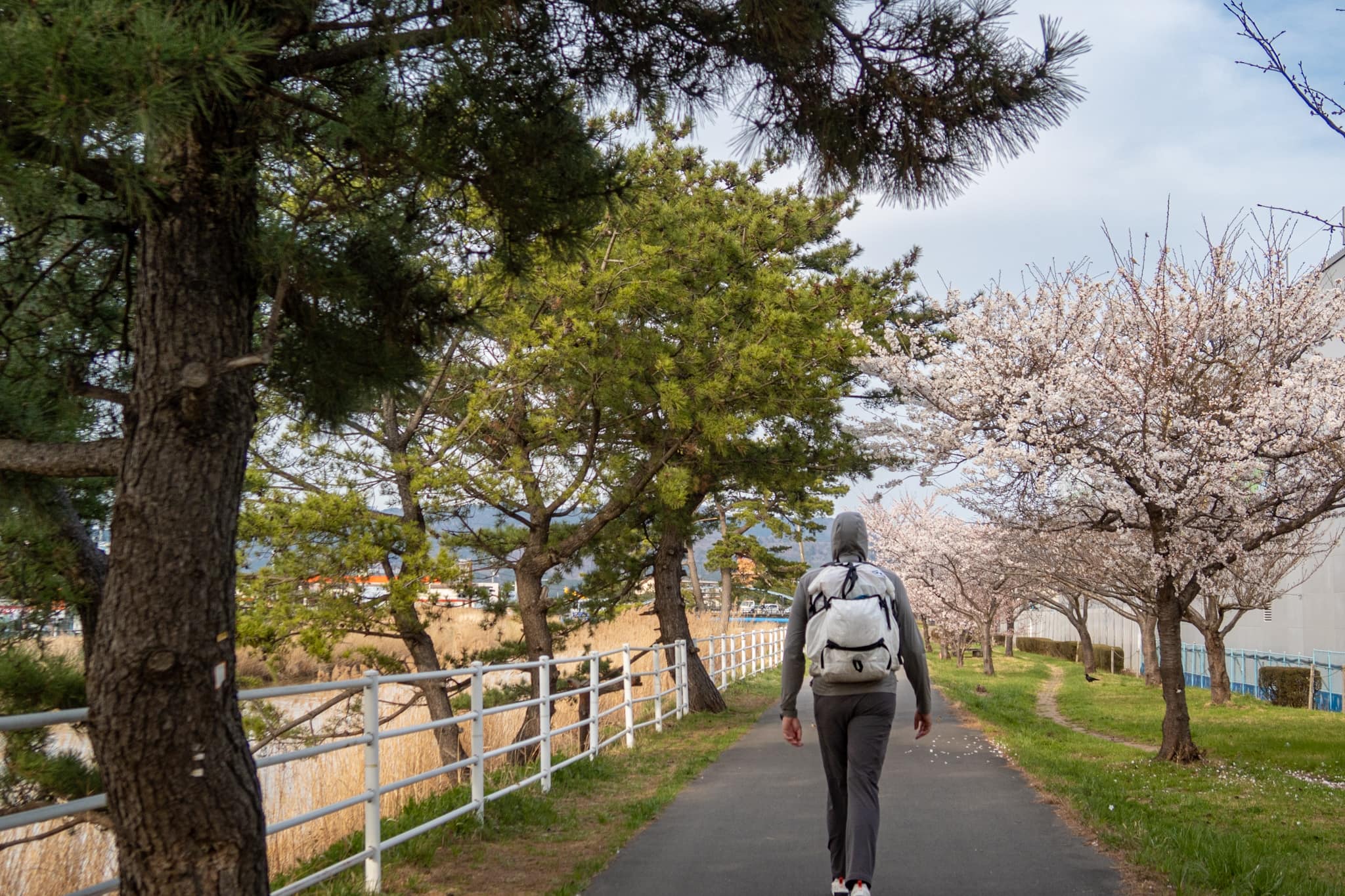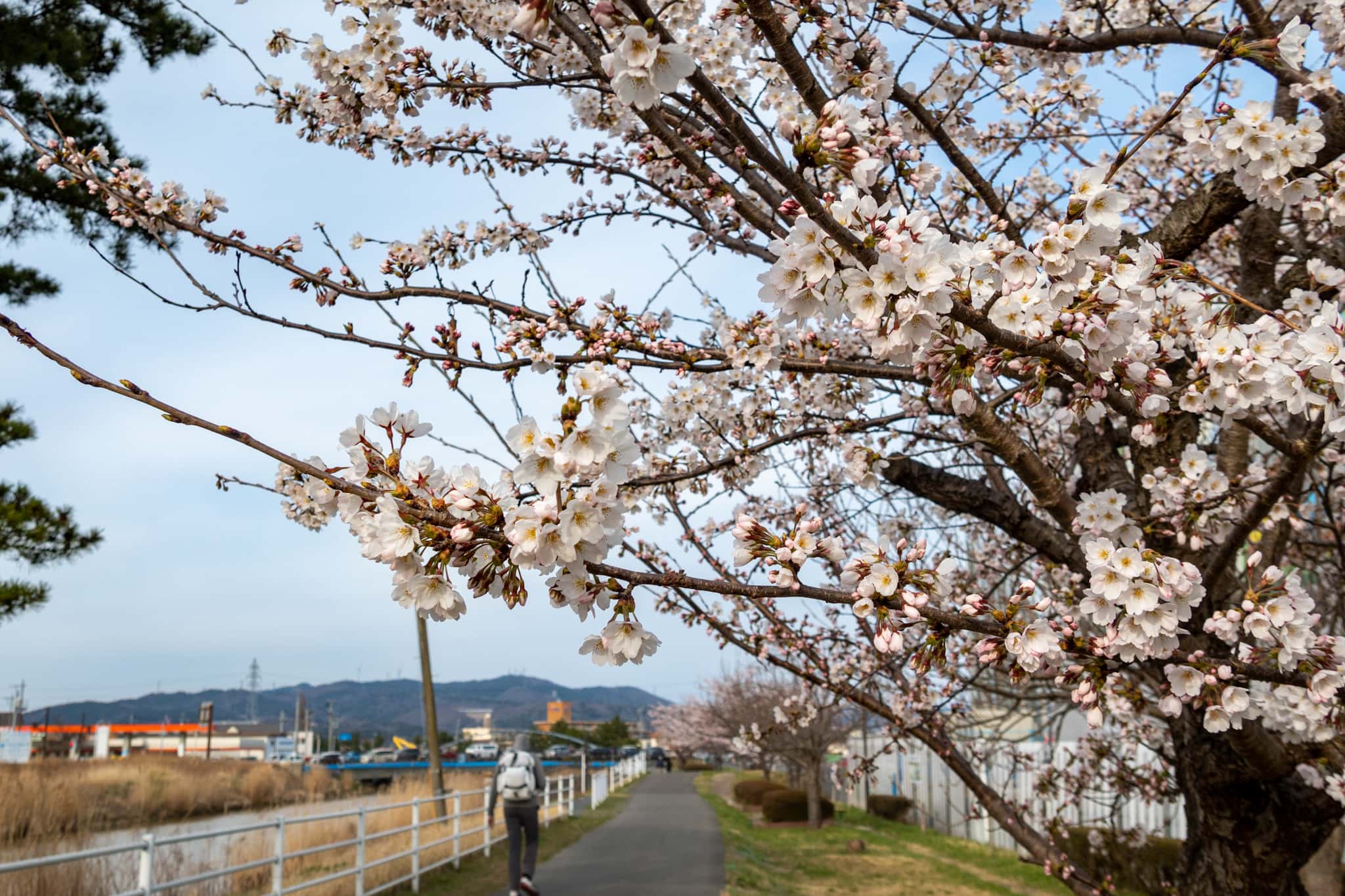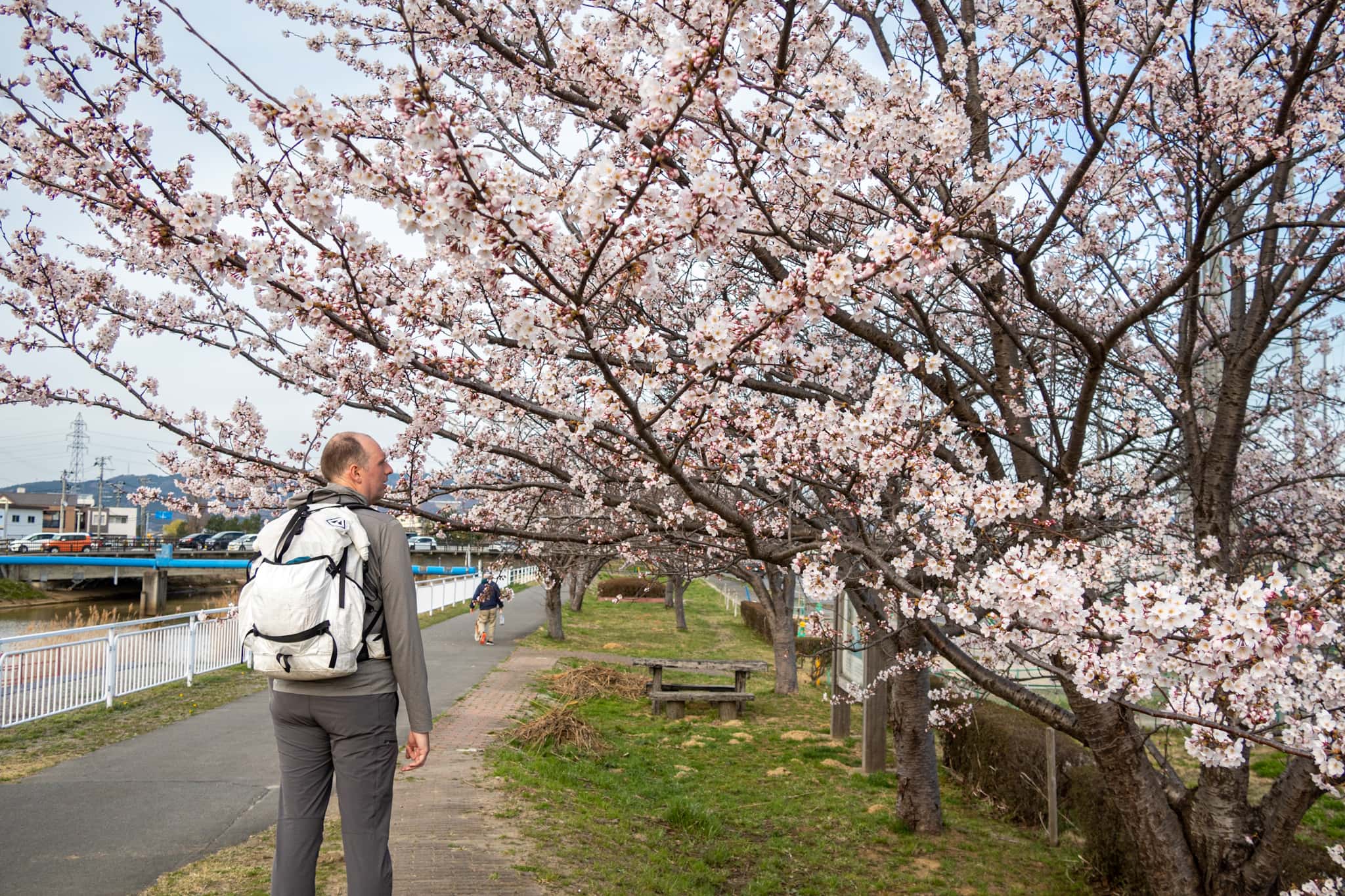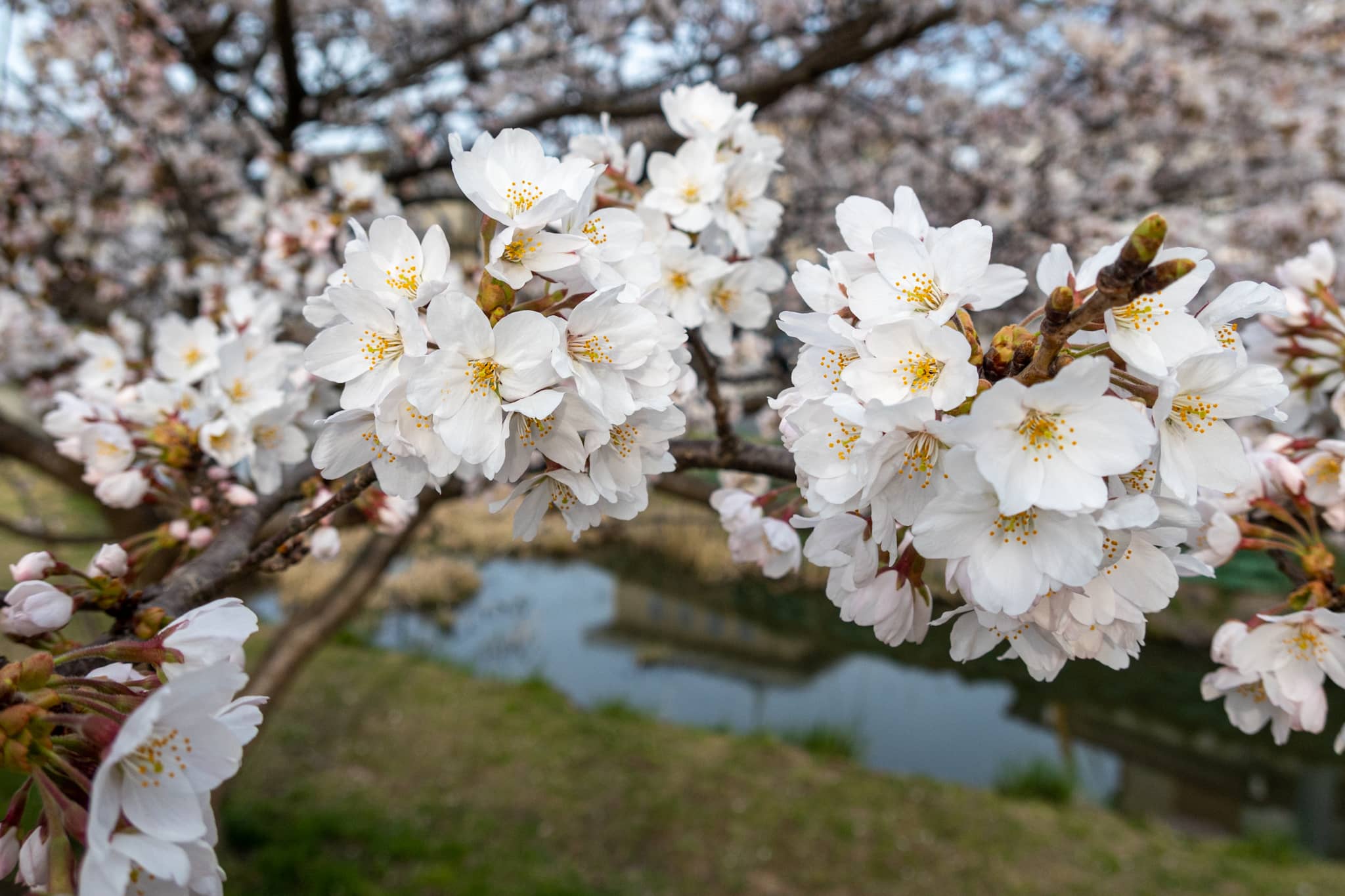 Finally, the canal reached the big Kyukitakami river (旧北上川).
The last 5 km to the port, MCT route runs on the river's west bank. As the sun started setting, many local people were walking on the riverbank road to go back home, to walk their dogs or for their daily workout.
My feet started feeling pains, but the sore level was much milder than before. So, I was confident that I should be able to make it to the port before dark.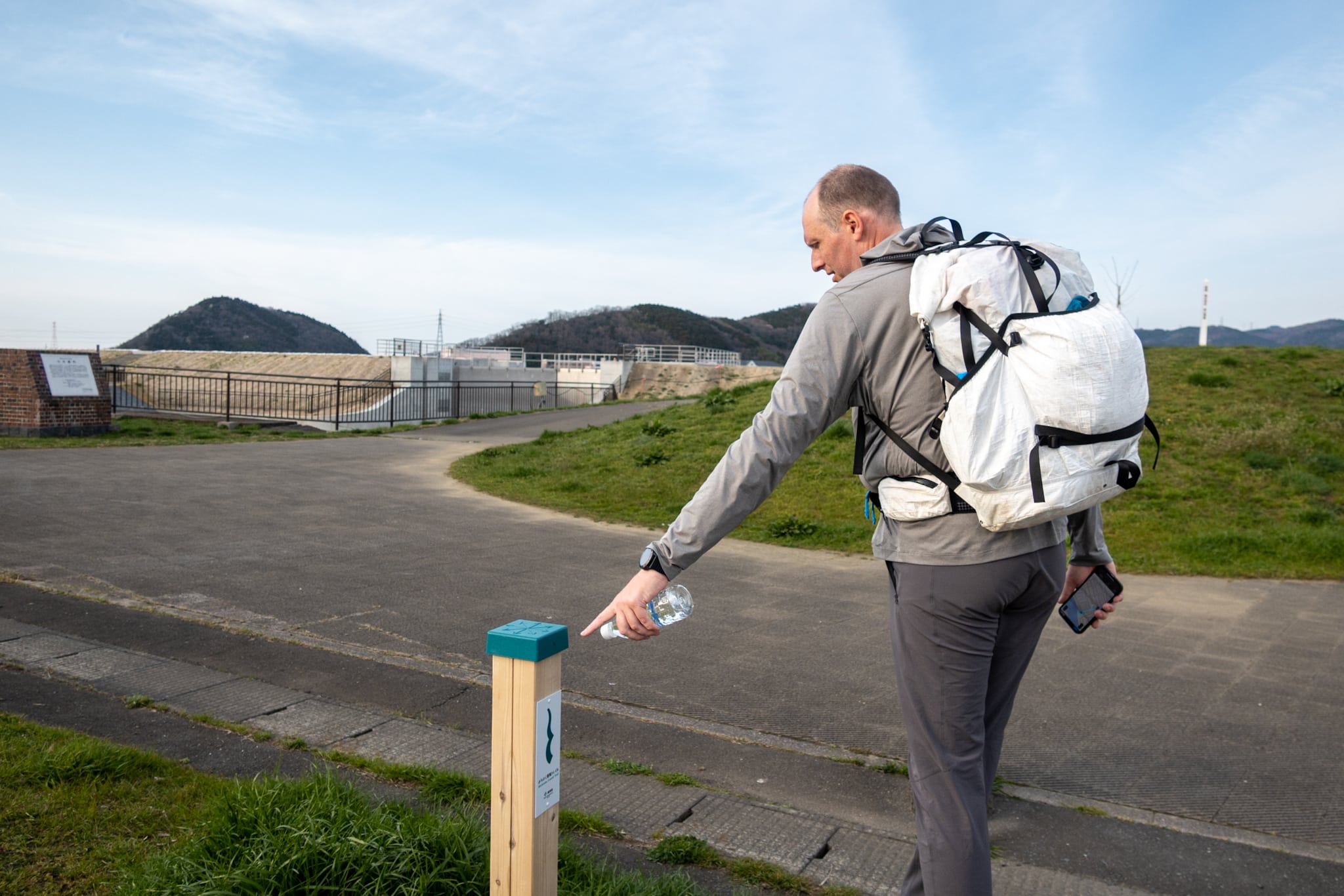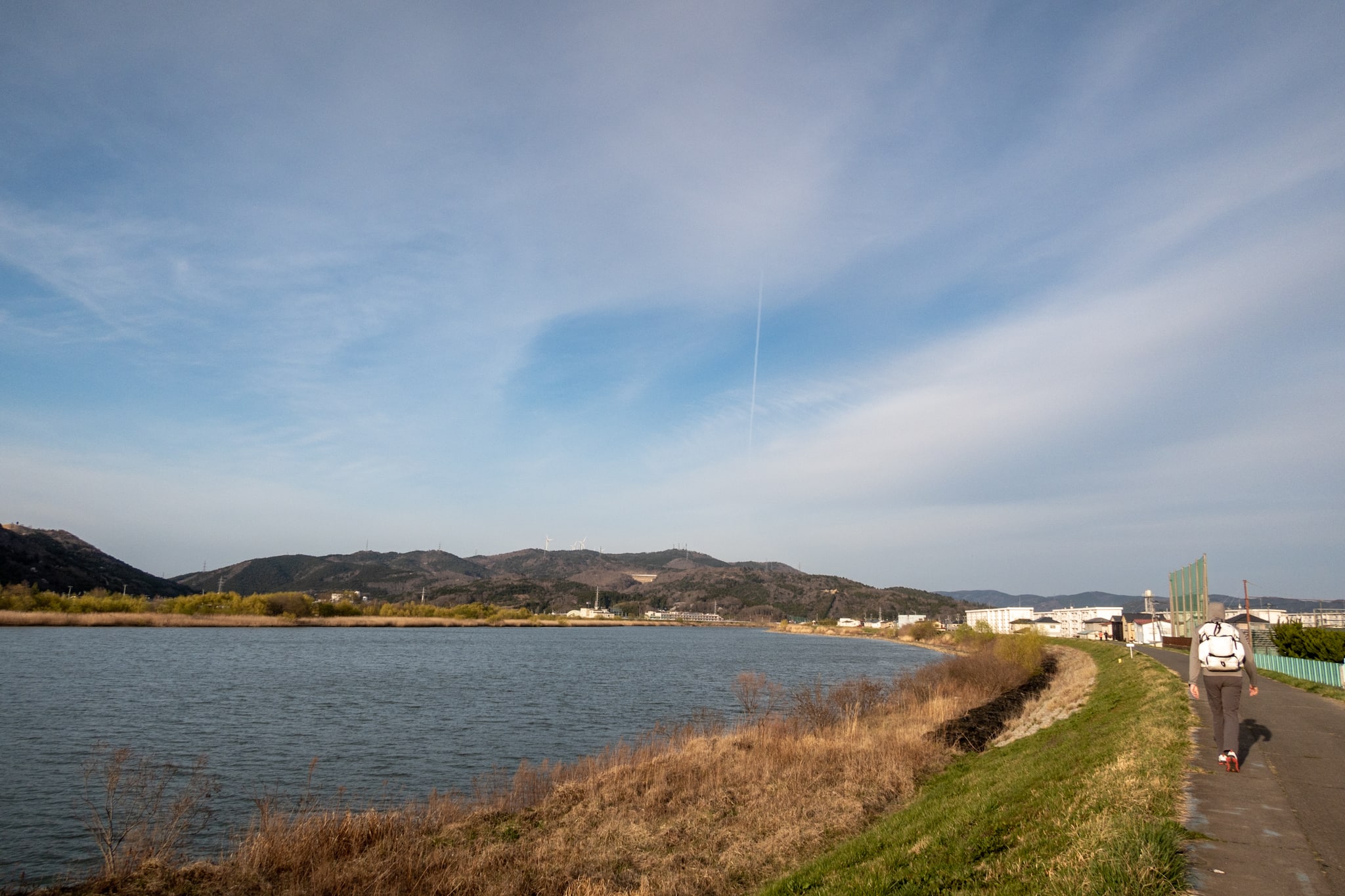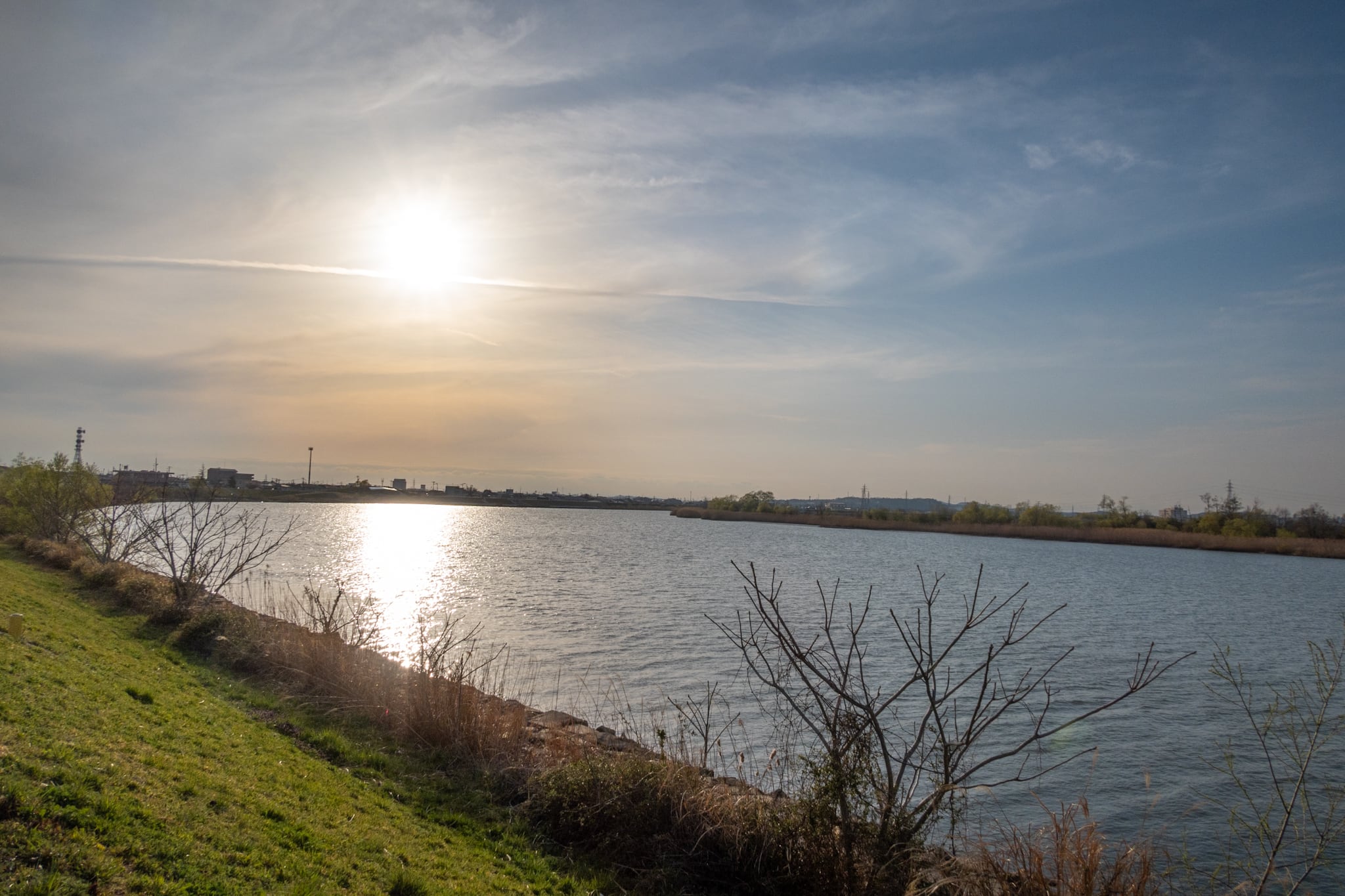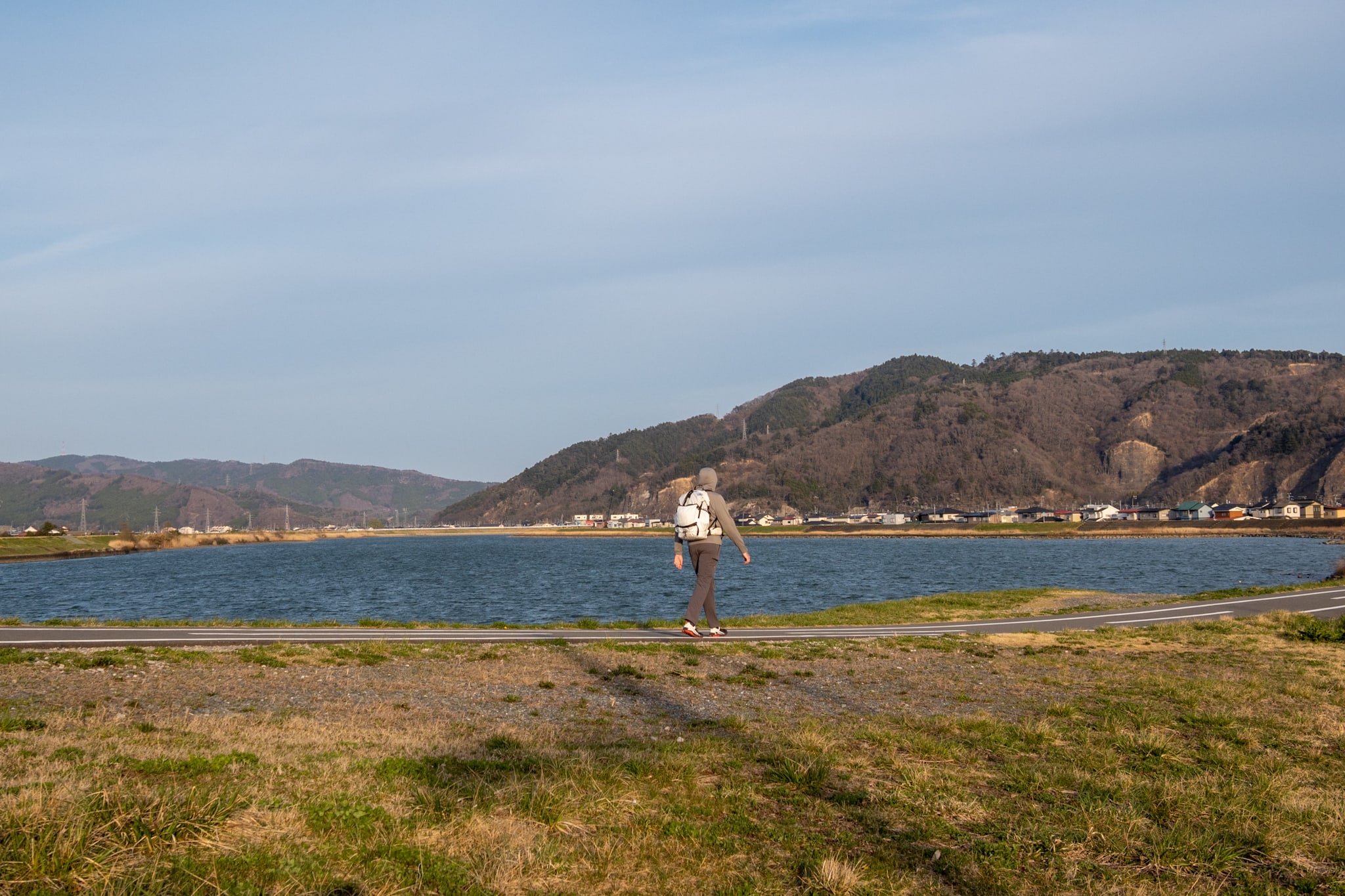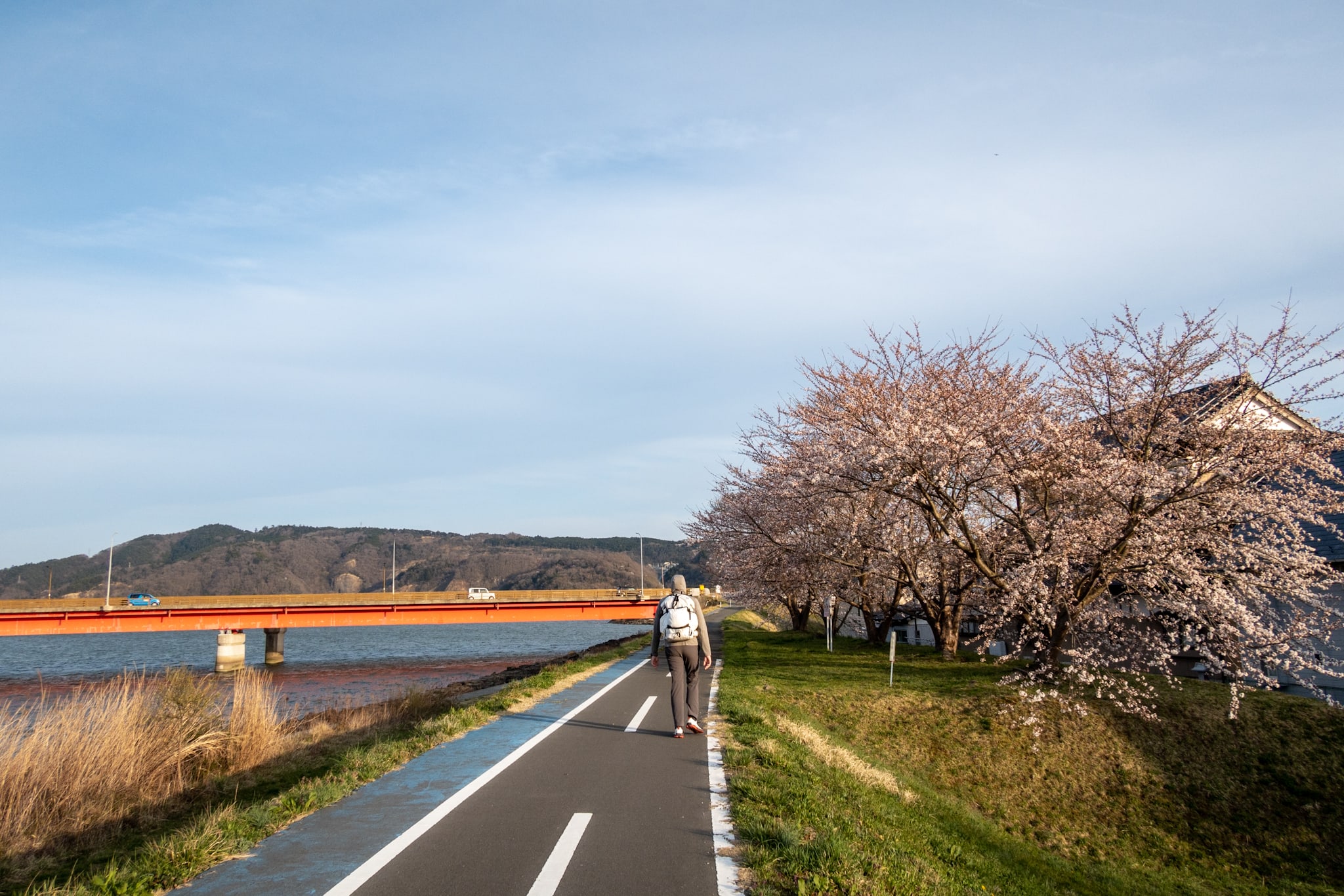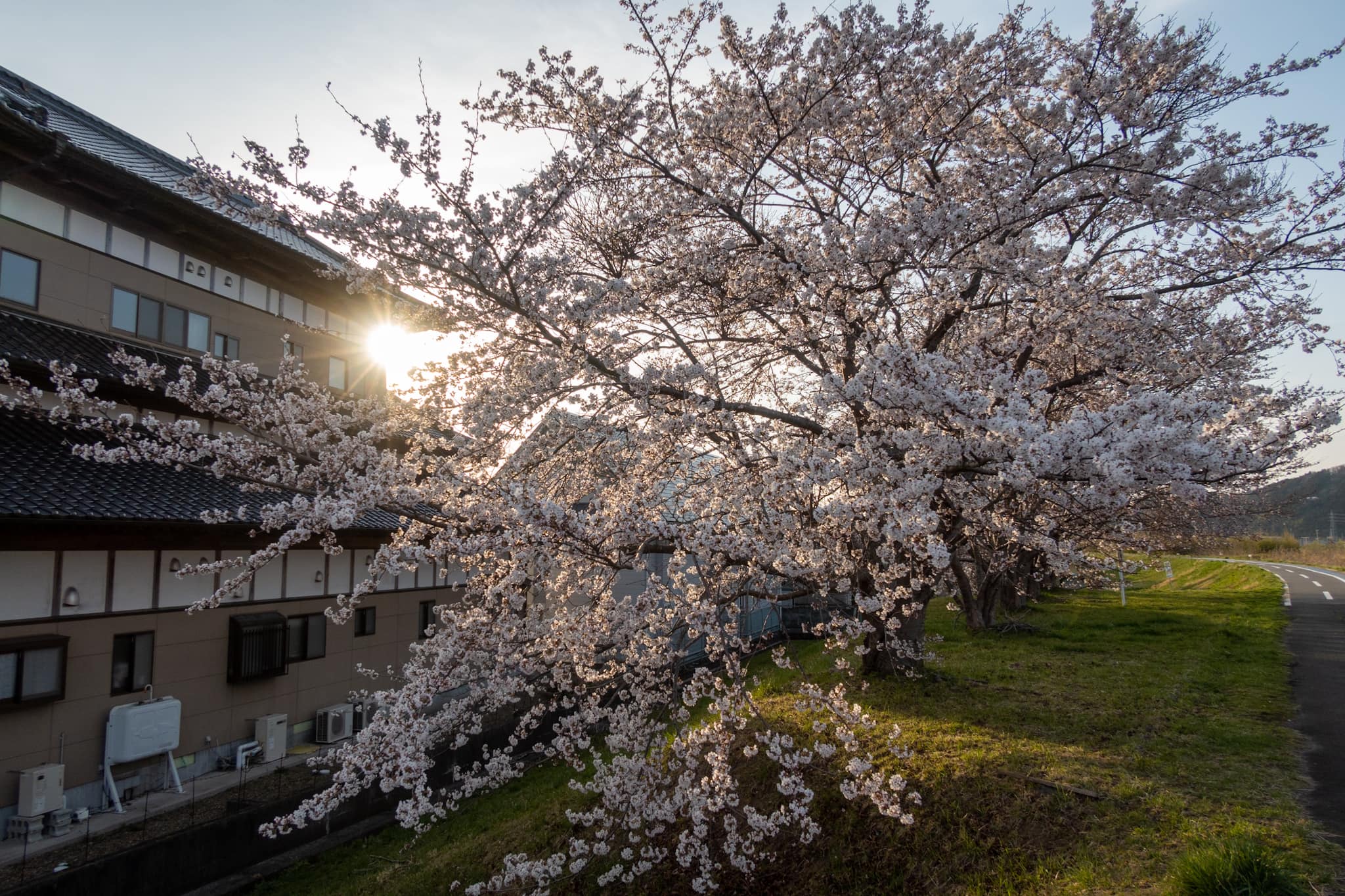 While walking on the last part, we were talking why I felt different about walking on today's long flat concrete paved road different and it seemed easier than before.

One big factor was the more variety of views along the bicycle path today.
We could see beaches and the canal, and airbase runways and entertaining free air shows. The seawalls were further from us that allowed us feel much more openness.
The visual difference clearly affected my motivation and energy level in a good way, much better than all we saw around us were windshield forests or high concrete seawalls.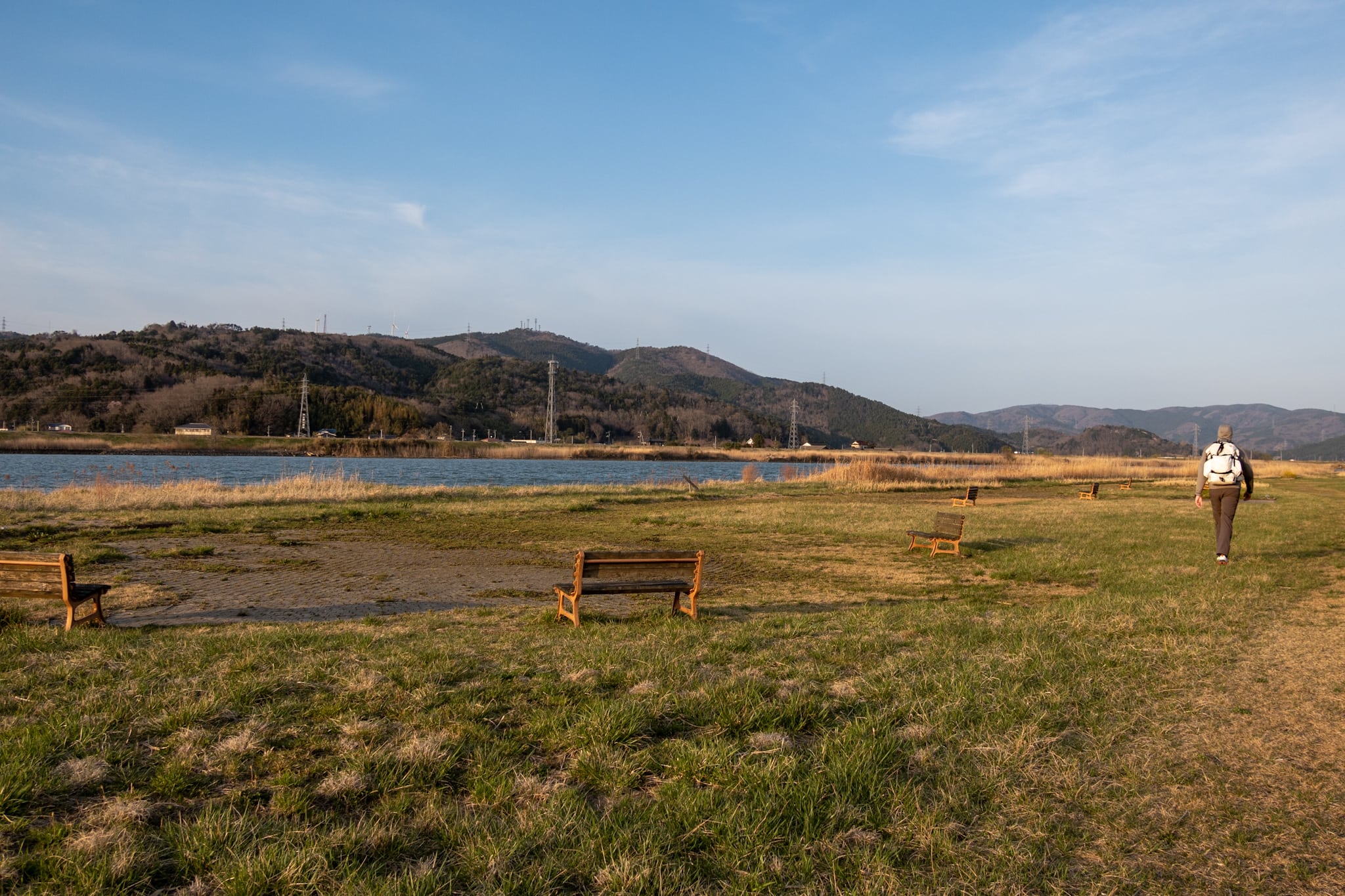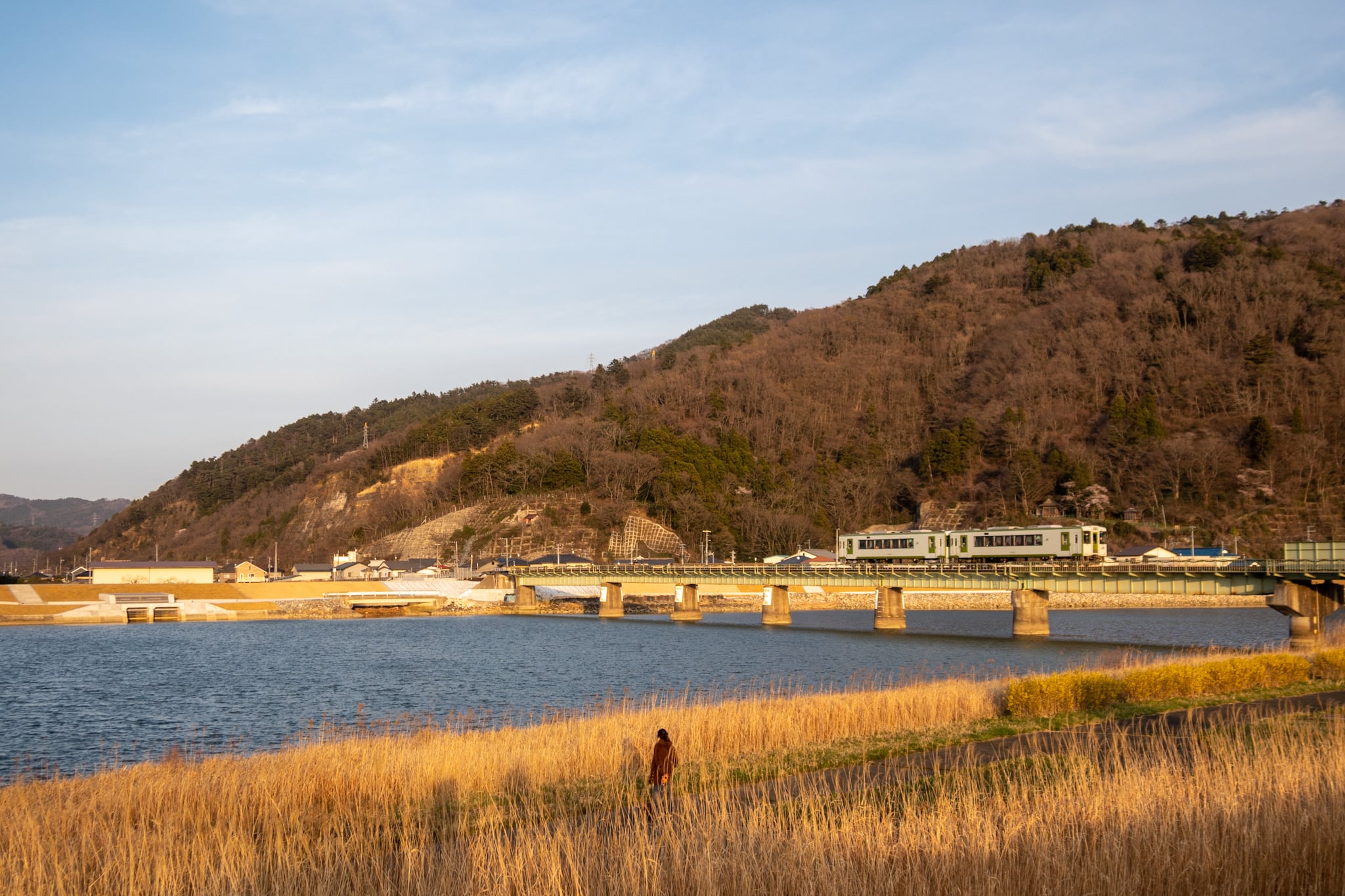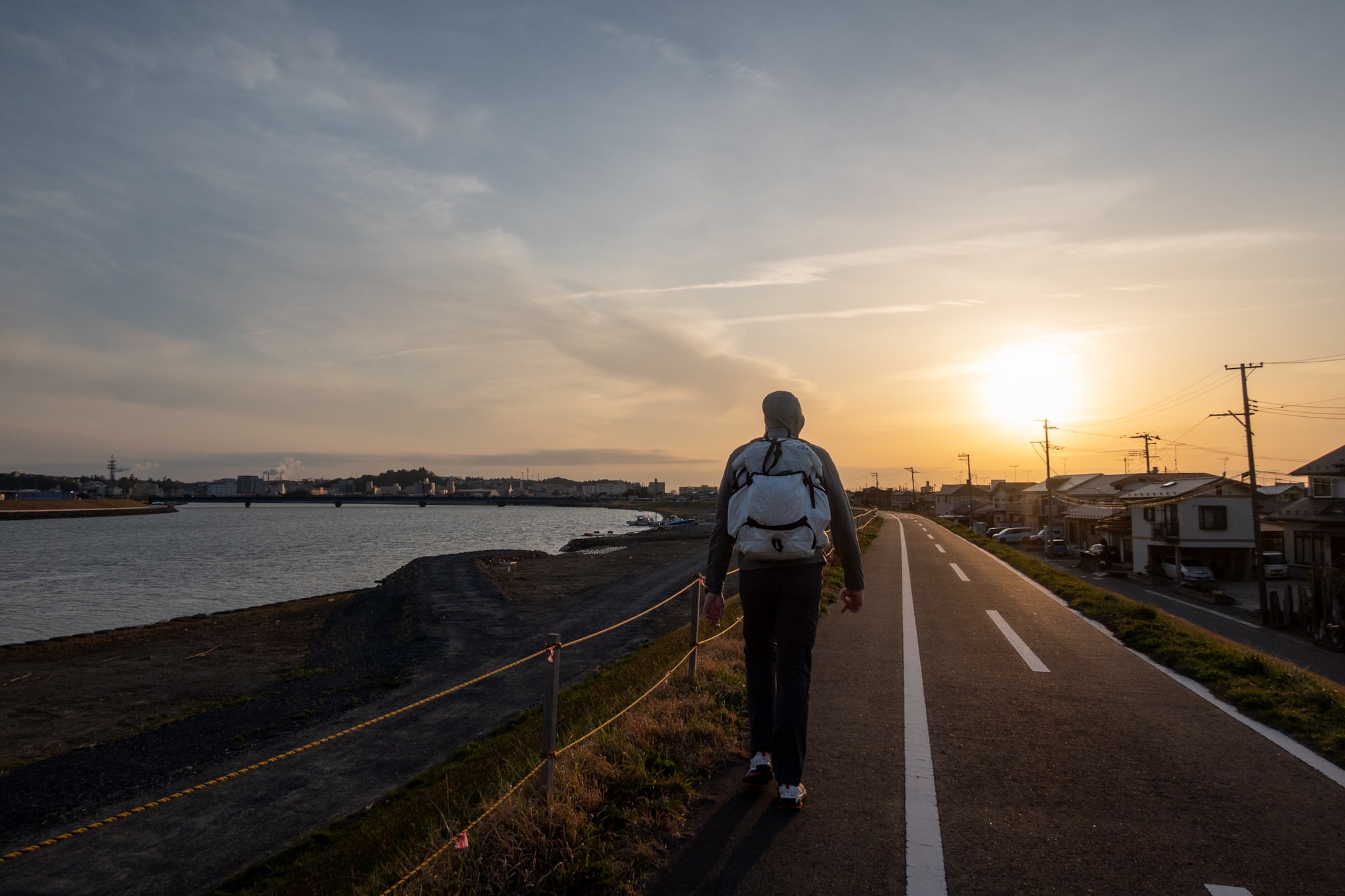 The very last one kilometer just before reaching the port was under big construction and completely blocked, making us go into the alternate detour. I was tottering on the zigzag narrow streets running through an old residential area, trying to ignore the pains on my feet caused by this extra walks.

At last, we arrived at the Ishinomaki-chuo port in the dusk of the evening.
The ferry we were going to take tomorrow morning for the second islands hike of MCT was anchored there.

Today, we marked a new record distance of our MCT hike, 35.5km.

I felt a strong sense of achievement and I seriously wanted to praise myself.
For as long as ten hours and half, walking on all asphalt/concrete-paved road, and look at me, I was still alive.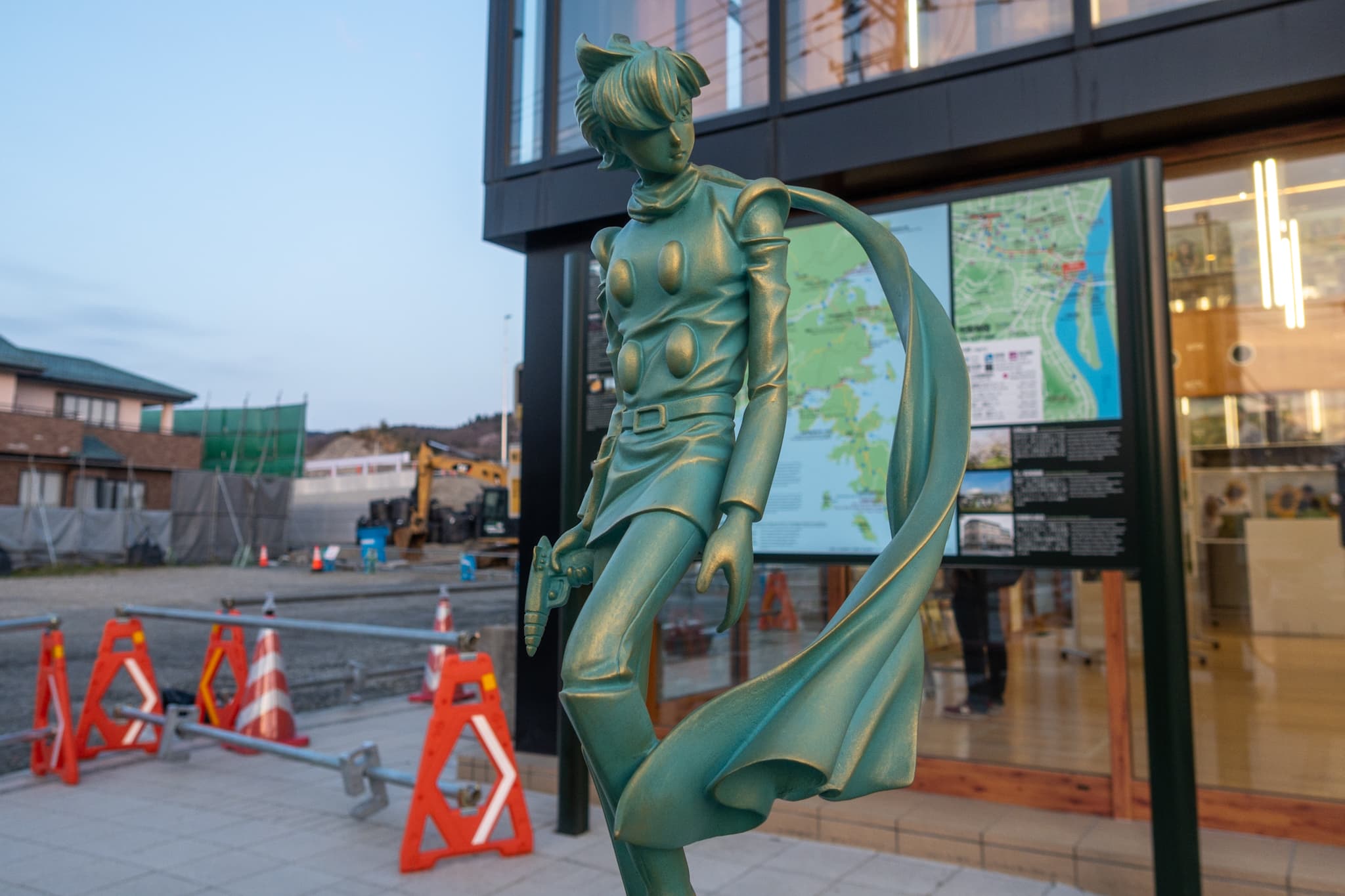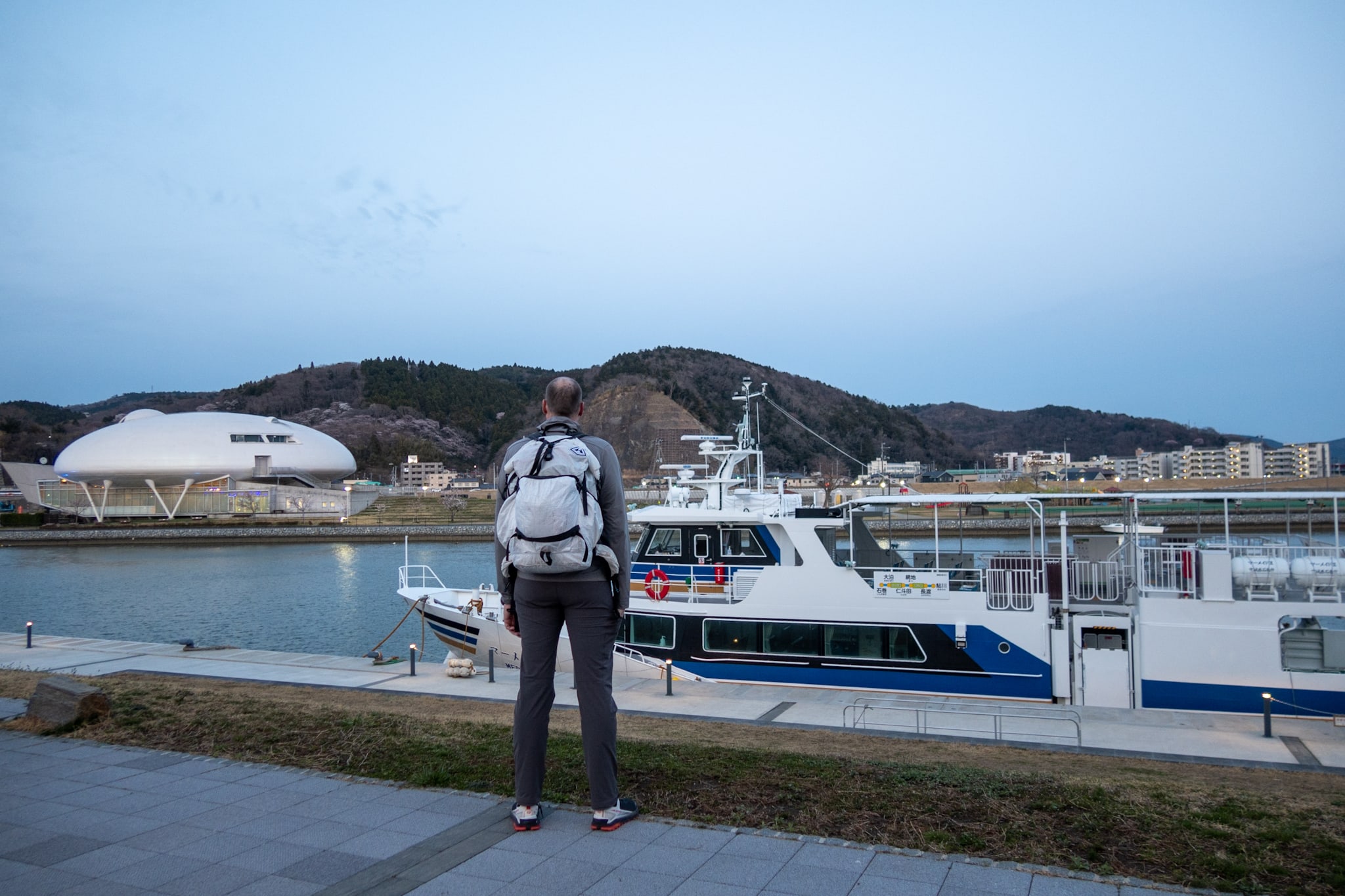 Much to my disappointment, we didn't see any taxi around the port.

I googled some local taxi companies and called them, but it was commuting time and all their taxies were unavailable.
We started walking to the direction of Ishinomaki station along a busy shop street, desperately searching for a luck to bump into a taxi.
Thank heavens, before long, we spotted a free taxi stopping for the red light. To be honest, I was this close to not being able to walk any more meter.
The taxi ride to the business hotel was fantastic and I even arranged a pick-up by the same taxi company from the hotel to the ferry port for the next morning.

Turned out, all was well today.
Our MCT Thru-hike : from late March to mid-May, 2021
Day 8
START : Minshuku Sakura-so
GOAL : Hotel Route Inn Ishinomaki-chuo
Distance walked

 35.5km

Total elevation gain / loss

 551m / 555m
Time

 10h 29m

Highest / lowest altitude

 37.7m / 0m